With the Government's target for the UK to reach net zero by 2050, the construction industry as a whole must reassess how buildings are designed and constructed to align with this objective. Here, Mike Polack, Structural Engineer at B&K Structures, talks to MMC about the role that engineered timber and hybrid offsite construction play in reducing the carbon footprint of buildings.
Following an update to the Climate Change Act in 2019, the UK has committed to achieving net zero by 2050 and has set an ambitious legally binding target to cut emissions by 78% by 2035 compared to 1990 levels. In the discussion of how the UK achieves this for the built environment, there has been a focus on phasing out natural gas heating and improving the operational energy efficiency of buildings.
However, embodied carbon, the greenhouse gas emissions associated with the production of materials and the construction process, is a significant issue. In its 'Embodied and whole life carbon assessment' document, the Royal Institute of British Architects (RIBA) suggests that for a UK office, warehouse or residential building, embodied emissions represent around 70% of the lifecycle building emissions. Also, embodied carbon may soon enter building regulations through the proposed 'Part Z'.
There are changes that can be made to design, materials and construction processes to reduce the embodied carbon. One of the clearest is the need to maximise the use of low carbon materials and be efficient with how we use them. UK FIRES, the research organisation run by the universities of Cambridge, Oxford, Nottingham, Bath, Strathclyde and Imperial College London recently released its 'Minus 45' report looking at how UK emissions targets could be met. Its findings suggest that the Government's 'Net Zero Strategy' will not be sufficient and further action must be taken. One of the key changes that Minus 45 recommends is to reduce cement production by 45% by 2030 and move to more efficient steel design and production.
Using timber in construction, often in conjunction with steel, is an alternative that can be implemented now. Used in construction for centuries, well designed buildings using timber have much lower embodied carbon. In addition, timber acts as a carbon store because trees absorb a significant amount of carbon as they grow and store it for the life of the material. The longer the timber is in use, the greater the environmental benefit of storing the carbon. Therefore, selecting high quality solutions and designing the building to last is important to maximise the impact.
Engineered timber has changed the way we build with timber. For example, glued laminated timber (glulam) is used for columns, beams and trusses. Cross laminated timber (CLT) is used for roofs, floors and walls, while timber cassettes offer a fast and efficient way of constructing roofs and external walls. The embodied carbon of engineered timber is decreasing rapidly as processing becomes more efficient and switches away from fossil fuels, seen in revised carbon factors being published by the Institution of Structural Engineers (IStructE) among others.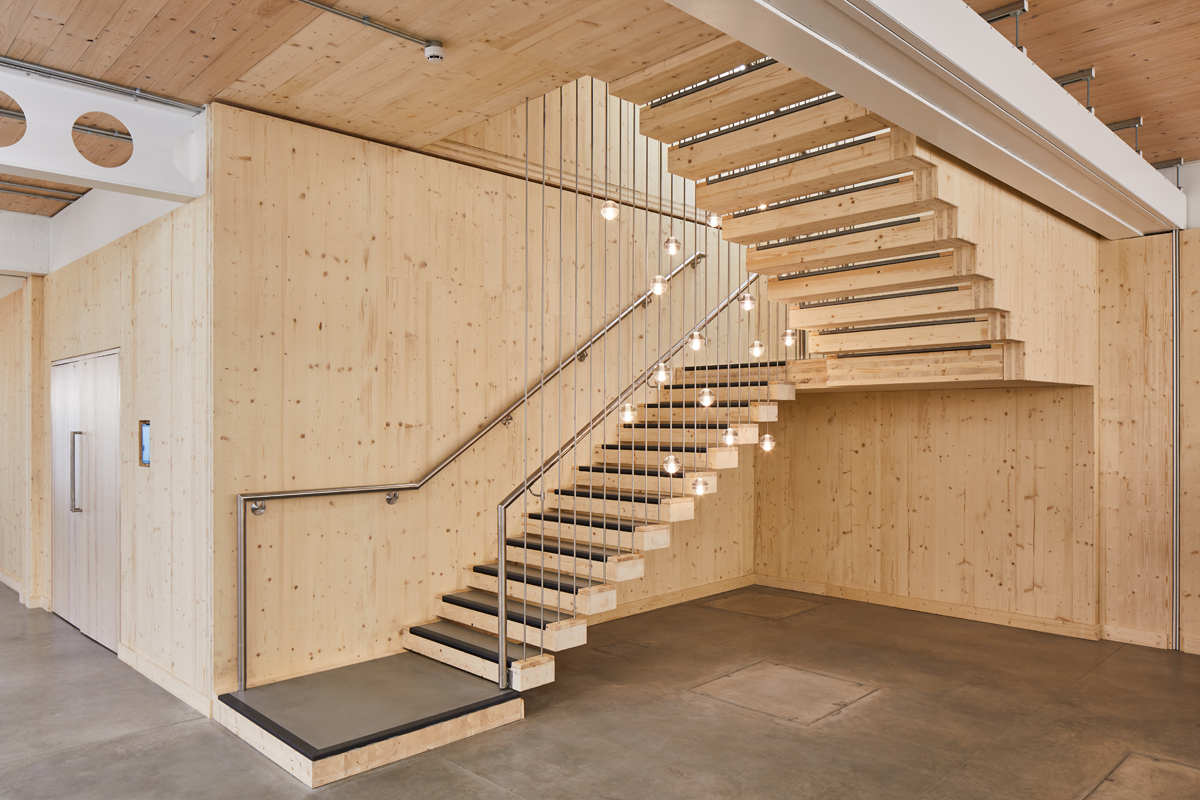 Engineered timber gains the benefits of offsite construction as it is built into panels or sections and can be easily transported to site and craned into place. A study on a 10 storey building also found that switching from concrete to hybrid steel-CLT construction reduced lorry deliveries to site from around 700 to 111.
In addition, engineered timber integrates well with steel to form hybrid structures that utilise the benefits of the different materials. This is particularly valuable for longer span floors and allows cost and climate efficient solutions for a variety of building types.
Furthermore, as timber elements are typically lighter than those in other materials, the required size and strength of supporting structural elements can be reduced, minimising the amount of material, cost and carbon needed for elements such as the foundations. Engineered timber is particularly popular for vertical extensions to existing buildings, as more floors can be added using the lighter construction. This is valuable for increasing floor area in dense cities, providing clients and developers with larger lettable space and quicker returns.
While there are challenges to constructing with engineered timber, knowledge, experience, and research has grown on the back of years of successful projects in the UK. Working with specialists to get the right advice early on can ensure a building is optimised for timber or hybrid construction. We can also look to Northern Europe and North America for inspiration, where engineered timber has been embraced.
An excellent example of the real-world benefits of a hybrid engineered timber and steel building is B&K Structures' 6 Orsman Road. A ground-breaking commercial scheme on the bank of the Regent's Canal in London, the hybrid timber-steel structural solution maximised space on a rapid delivery schedule, and the six-storey building effortlessly showcases the benefits of engineered timber technology. Designed by Waugh Thistleton, this office building has CLT walls, floors and roofs alongside steel beams and columns, providing outstanding green credentials. The upfront embodied carbon of the steel and CLT superstructure was as low as approximately 120 kgCO2e/m2, with a similar amount of carbon stored in the CLT. For context, the time to grow back the timber used in this project in European forests would be about 3 minutes.
Engineered timber and hybrid structures have the potential to significantly reduce the built environment's carbon emissions. To make the most of these benefits, seek specialist advice early on in project design.
To find out more about B&K Structures visit www.bkstructures.co.uk.
https://mmcmag.co.uk/wp-content/uploads/2021/12/bk1.jpg
320
800
Lyn
https://mmcmag.co.uk/wp-content/uploads/2021/11/MMC-ONLINE-LOGO4-small-300x62.png
Lyn
2021-12-16 08:43:24
2022-02-06 09:09:43
THE ROLE OF TIMBER IN ACHIEVING NET ZERO