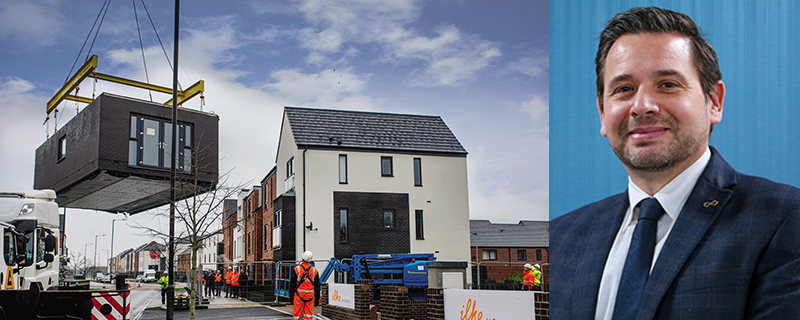 "A total modular solution": Euramax and MGI MD on ambitious plans for growth
Nick Cowley joined Euramax Solutions as its new Managing Director in 2019 – but not long afterwards, he learned the company's existing owners were planning to sell. What could have been a challenging and uncertain moment turned into a major opportunity, however, as Euramax went on to become part of fast-growing Modular Group Investments – a firm that Nick now helps lead as its MD. Here, he gives his thoughts on what lies ahead for the two companies.
Nick, what was Euramax Solutions like when you first joined? And how has it changed under your leadership?
I was appointed as Euramax MD back in 2019, when it was already a large, widely respected uPVC window manufacturer with a very strong presence in the leisure market.
It started out specialising in windows for narrow boats in the '50s, before diversifying into the broader holiday home sector, then spreading into construction much more generally.
Because of that heritage, leisure will always be a big part of what Euramax does – but as Managing Director, my aim has been to diversify and increase our presence in the builders merchant and enter the modular construction sectors, using our core strengths of delivery and service solutions.
We've being working with some of the country's biggest merchants, serving both the trade and the DIY market, as well as some highly respected modular builders. In the coming years, we want to significantly expand in both these areas.
Tell us how you first came across MGI, and the rationale behind Euramax's acquisition.
Soon after joining Euramax Solutions, I was informed that our American owners were looking to sell the company.
I suggested to the CEO that I help him find a buyer, and he agreed, so I set about looking for the right business to take Euramax forward.
Before long, I found MGI. The relationship had a very twenty-first century beginning – I simply came across them one day on LinkedIn.
But after meeting Michael Garratt, MGI's founder and CEO, it very quickly became clear he was the person I was looking for.
Michael is extremely knowledgeable about modular construction, and we both shared a passionate belief that offsite and MMC has huge potential for growth in the years ahead.
Obviously, when I first started looking for a buyer, I had no intention of going on to have a role in whatever business acquired us – but with MGI, the synergies were so strong that it just made sense.
That's how I became Managing Director of MGI, as well as Euramax.
What are your ambitions for MGI?
Essentially, our aim is to be able to provide building products utilised in the modular construction supply chain.
We want to reach a situation where an MGI lorry can roll into a customer's factory and supply them with everything they need – from doors and windows to roofing, decking, cladding and so on.
To achieve that goal, we're looking to acquire companies that are either in the modular supply chain already, or have expertise that we can bring into modular.
Most recently, for example, we've acquired Rapid PVCu systems. MGI doesn't specialise in fenestration – as I've said, we want to cover the whole spectrum of modular components – but Rapid was another case where the synergies were too good to turn down.
We also want to pay a lot of attention to how the different products in the modular supply chain interact with each other, too.
What often happens at the moment is that companies just supply a particular product, then leave it to the customer to work out how that product will work alongside all the other components they're buying in.
At MGI, we're interested in developing a total modular construction system – windows that interface with cladding, which interfaces with decking and so on, to make modular builders' lives as easy as possible.
Are there any particular criteria a company would have to meet for you to consider making them part of MGI?
We're looking for well-run, medium-sized businesses with expertise in MMC already – or if not, expertise that would easily translate to the modular sector.
Beyond that, we're very flexible. We know that, if you've run a business you're passionate about for decades, it can be really difficult to leave all that behind – so we're totally open for existing owners to stay on in some capacity and help us drive the business forward.
Equally, if someone's looking to retire completely, we're very happy to help them exit the industry, and build on the foundations they've created.
Ultimately, our message is that if you've got a business that you think would fit the bill, don't hesitate to get in touch.
For more information, call MGI on 0330 1340290 or email nick@modulargroupinvestments.co.uk
https://mmcmag.co.uk/wp-content/uploads/2021/09/EUROMAX.png
320
800
Lyn
https://mmcmag.co.uk/wp-content/uploads/2021/11/MMC-ONLINE-LOGO4-small-300x62.png
Lyn
2021-09-27 13:51:43
2021-09-27 13:51:43
A TOTAL MODULAR SOLUTION