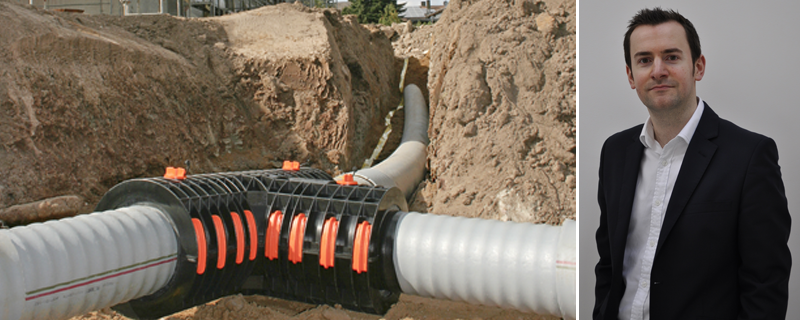 Steve Richmond, Head of Marketing and Technical at REHAU
The Government's Heat and Buildings Strategy is a welcome development in decarbonising the UK heating sector, but must be supported by further policy if net zero is to be achieved, according to polymer pipework specialist REHAU.
The long-awaited strategy was launched October 2021 by the Department of Business, Energy and Industrial Strategy (BEIS), with the £450 million Boiler Upgrade Scheme being the centrepiece of the development. From April 2022, homeowners will be eligible for £5 – 6K grants to install heat pumps, with the intention of driving down the cost of clean heat and reducing dependence on fossil fuels.
However, REHAU has advised that greater scope will be necessary if climate targets are to be achieved. Steve Richmond, Head of Marketing and Technical at REHAU, said: "The Boiler Upgrade Scheme is a really positive development for the uptake of cleaner technology. However, at £5 – 6K funding per heat pump, we're only providing scope for a maximum of 90,000 installations. The UK is currently installing roughly 35,000 each year, so we need to be more ambitious if we are to reach the Prime Minister's target of 600,000 heat pumps per annum by 2028.

"With increasing installations, the Government's ambition is to reduce the cost of heat pumps by 25 – 50 % by 2025. However, the number of trained installers and manufacturing costs are likely to be a challenge here. The Government has signalled that they want to see more local manufacturing for low-carbon solutions, and REHAU has been manufacturing its pre-insulated RAUVITHERM pipe since 2012, which is used for both heat pumps and district heating."
District heating networks also feature heavily in the strategy, with a £338 million investment in the Heat Network Transformation Programme set to take place between 2022 and 2025. Other measures such as the £150 million Home Upgrade Grant have been put in place to help off-gas grid homes achieve a reduction in their carbon emissions.
With the Future Homes Standard also set to ban gas boilers in new builds by 2025, heat pumps and district heating networks are expected to become the new standard for residential heating. Growing uptake of low-carbon heat sources has in turn lead to increased demand for energy-efficient heat distribution solutions, such as underfloor heating & cooling or Thermally Activated Building Structures (TABS), which makes use of a building's natural structure to both heat and cool.
Steve concluded: "With the decision on hydrogen's future being pushed back to 2026, there is a greater need than ever to evaluate our path to net zero. The launch of the Government's Heat and Buildings Strategy is a vital step in this journey, but cannot bear the load of this challenge alone. Only through the support of other initiatives will we achieve a net zero Britain."
For more information on REHAU's low carbon district heating solutions, CLICK HERE:
https://mmcmag.co.uk/wp-content/uploads/2021/10/MMC-22.10.21.png
320
800
Lyn
https://mmcmag.co.uk/wp-content/uploads/2021/11/MMC-ONLINE-LOGO4-small-300x62.png
Lyn
2021-10-22 09:52:02
2021-10-22 09:52:02
Additional Measures Required to Support Heat and Buildings Strategy