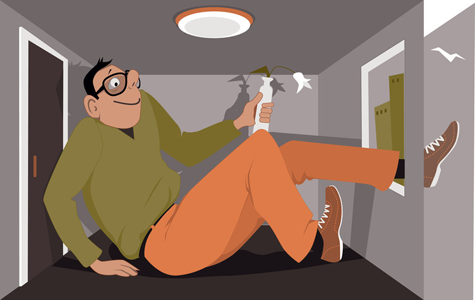 An investigation by Tom Calver
An Englishman's home may be his castle, but for an ever growing number of buyers, that may mean a property less than 37 square meters – or the size of a tube carriage. High demand, skyrocketing prices and lifestyle shifts have led to the rise of the micro-property – but what does this mean for buyers today?
The UK property market boasts an increasing number of homes smaller than 37sqm, the minimum studio floor area under national standards. Almost 8,000 new micro-homes were built in 2016, the highest number on record, according to Which? analysis of Land Registry data.
As developers rush to use more flexible planning laws and carve up office blocks into homes, prospective buyers should be cautious: our research suggests micro-homes don't necessarily grow in value like their larger counterparts, while some mortgage lenders won't lend on them at all.
In this special investigation, we explore:
The growing prevalence of micro-homes
The areas with the most micro-homes
How micro-homes increase in value compared to larger properties
The mortgage providers that won't lend on small properties
How common are micro-homes?
A 'micro-property' has no strict definition, but typically, the term refers to properties with a floor area below 37sqm – which is the minimum size for a studio under the government's national Technical Housing Standards.
However, these standards aren't legally binding. Where there are housing shortages, developers can apply to local authorities for permission to build smaller homes and councils cannot reject properties on grounds of size alone.
In 2013 the Government introduced so-called "Permitted Development Rights" (PDR) which allowed builders to convert offices into residential homes without submitting planning applications. Since then, the number of new micro-properties has rocketed.
Developers have been purchasing disused office spaces, like this one in Croydon, and splitting them into many small studio and one-bedroom flats.
This trend isn't confined to the London suburbs. Our research showed high numbers of micro-properties are being built in urban areas like Leicester, Liverpool, Cambridge and Bristol: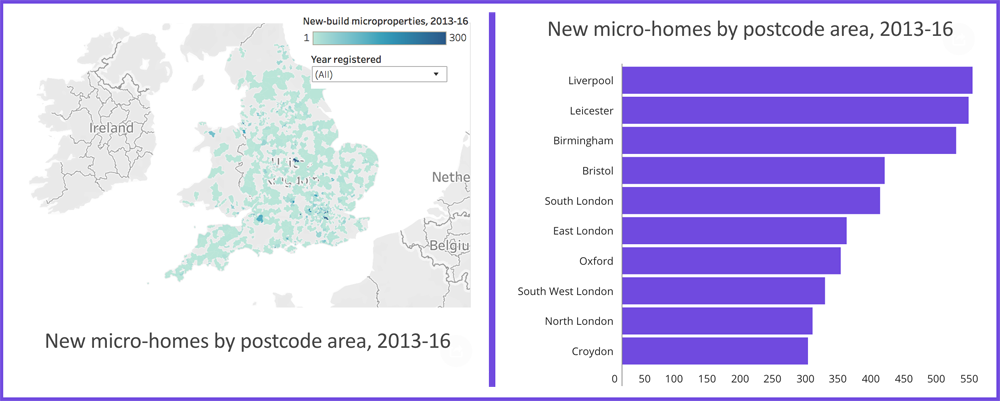 Source: Department for Communities and Local Government
The term 'micro-property' covers a broad spectrum of homes, including poorly thought-out flat conversions with toilets in the kitchen or showers in the living room. But many of the new properties produced under Permitted Development Rights use space in an intelligent way, according to developers who spoke to Which? For instance Inspired Homes who boasts a property with a separate bedroom – yet has just 31.5 square metres of floor space:
Gwyn Roberts, of housing charity BRE, says size is less important than innovative and practical design: 'Small homes that are not well-located, have poor indoor environment and are generally designed and constructed poorly would not reach [our standards].'
"[However], many micro-flats are well located, have communal space inside and out and are well designed to have property ventilation, sound insulation and more."
Martin Skinner, chief executive of Inspired Homes, suggests younger buyers in particular tend to have lifestyles that suit smaller apartments, citing the 'growth of the sharing economy and more possessions like music and film collections stored in the Cloud.' He says that many of their PDR properties have opted for 'flexible furniture solutions' – including desks that transform into dining tables.
Do micro-properties grow in value?
It's not hard to understand the attraction for some buyers, especially as rising prices in some regions price many people out of the market. Often, micro-properties offer a cheaper alternative to regular houses. In 2016, properties in London smaller than 37 sqm cost just £279,000, according to Land Registry data. Though not exactly cheap, it's less than half the average price of a London home sold in the same period (£580,000).
While micro-homes are a cheaper way of getting onto the housing ladder, it's important to consider whether your investment will grow in value over time.
As part of our investigation, we combined information on property sizes from the Department for Energy with house price data from HM Land Registry, covering nearly 3m properties. We then compared the average price of properties sold in 2016 with those sold between 2013 and 2015 to measure the price growth of different-sized homes.
Our analysis showed properties with floorspace of between 50 and 120 sqm had the best price growth in the period.
However, homes smaller than the national minimum space standards did not perform as well; price growth for properties smaller than 37 sqm was 6.9%, compared with 8.7% for homes larger. This is despite almost two-thirds of these smaller properties being located in London and the South East, which have seen massive rises in house prices in recent years.
That trend continues for even tinier homes: properties smaller than 30 sqm grew just 5.4% in value between 2013-15 and 2016.
In London, micro-homes did slightly better: properties smaller than 37 sqm grew 11.8% between 2013-15 and 2016. However, this was still much less than the 14.5% growth for all other properties in the capital.
How big is 37 sqm?
We Brits have some of the smallest homes in Europe, at an average of 76 sqm – that's a slice larger than a squash court (62.4 sqm). By comparison, the average size of a property in Denmark is 137 sqm, according to research published in 2014 by Find Me A Floor.
National space standards suggest that a one-person dwelling can't be smaller than 37 sqm. That's about the same internal space as a tube carriage, and a fair bit larger than the average Travelodge room, which is 28 sqm.
However, we've found many newly converted office developments with floor areas of 16 sqm. For reference, that's smaller than the size of a sumo wrestling ring.
Barnet House is currently being converted by Meadow Residential into flats. We found one studio in Brent that was just 8 sqm – more than 3.5 sqm smaller than the average UK parking space (11.5 sqm) and only 1 sqm larger than a prison cell. A three-bedroom house was converted into six studio flats, but in 2015 Brent council since ordered the development to be turned back into a house.
Error, group does not exist! Check your syntax! (ID: 2)
Who's buying micro-properties?
Micro-homes are cheaper, usually closer to city centres and often too cramped for families with children. For those reasons, it's not surprising that they're mainly bought by first-time buyers, according to Inspired Homes. CE Martin Skinner says 'these buyers are typically single professionals in their early thirties or young couples in their twenties combining salaries to purchase together. We also get a lot of siblings who team up to purchase the two-beds'. However, he adds that it's investors who get the first dibs, with many reserving early to benefit from capital growth. In fact, plenty of micro-properties are listed on property portals as 'Investor Opportunities', offering 'guaranteed' gross rental yields.
Are micro-properties un-mortgageable?
Why don't micro-properties grow in value like regular sized properties? A simple reason might be that many buyers aren't eager to sacrifice space for convenience.
Another reason, however, could be the ability to borrow to buy them. If most buyers cannot easily get a mortgage on the property, this may limit price growth over the long-term.
We asked six major mortgage providers whether they had special criteria on lending for smaller homes. While HSBC didn't comment, Lloyds Bank, Barclays and Santander all said they didn't have a specific size limit, but that they lend on the basis of a professional valuation. For example, Barclays said it requires flat conversions to have been developed with 'reasonably sized rooms', but said that this is 'down to the valuer's professional opinion.' However, Nationwide and RBS wouldn't lend on properties with floor areas smaller than 30 sqm. RBS added that smaller properties run the risk of 'restricted demand' and 'volatile pricing on resale'. David Blake from Which? Mortgage Advisers encouraged buyers to do their research, saying: 'I would suggest anyone thinking about buying a small flat should speak to an independent mortgage adviser to understand their options, but also think about the re-saleability of the property and if demand is likely to remain strong for that type of property in the future.'
The future of property?
With modern facilities and intelligent space solutions, the micro-homes of today are a far cry from the inner-city studios of old where you could touch the toilet from your bed.
Demand for cheap, inner-city housing, coupled with rising prices, have driven up the supply of this type of property. But it remains to be seen whether they offer viable returns to owners – or prove to be homes that people actually aspire to live in.
Source: Which?
https://mmcmag.co.uk/wp-content/uploads/2020/01/MMC-NEWS-08.01.20-1.png
300
475
Lyn
https://mmcmag.co.uk/wp-content/uploads/2021/11/MMC-ONLINE-LOGO4-small-300x62.png
Lyn
2020-01-08 11:49:48
2020-01-08 11:49:48
Are Pint Sized Apartments the future of Housing