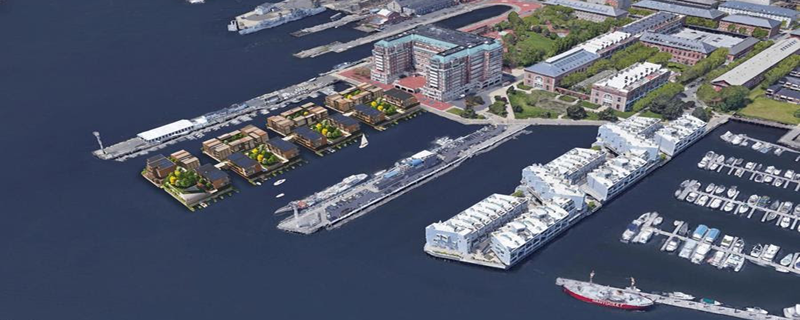 Two of the world's leading experts on water placemaking and floating architecture have collaborated on a masterplan for Charlestown Navy Yard in Boston which will deliver a new residential neighbourhood on the water as well as a waterside public amenity. The pair, Koen Olthuis, Principal of Waterstudio in the Netherlands, and Richard Coutts, Principal of London-based Baca Architects, were invited onto the design team by Boston's 6M Development who are seeking to implement the first floating housing community off the East Coast of America. The intention is that the development will provide a template for climate adaptive and resilient affordable homes across the Hudson Harbour and along the entire U.S. coastline- and indeed to any other coastal city where land costs are high.
The scheme centres on repurposing a long-dormant pier by selectively demolishing and retaining parts to create four sturdy islands that will become anchoring points for floating homes, providing Boston with much-needed housing economically and efficiently. The homes will be built on top of large floating pontoons tethered to the islands by flexible moorings, allowing the homes to rise and fall with the tide. The pier development will thus work with the dynamic tidal range of Boston's Inner Harbour while also achieving a canal experience reminiscent of Amsterdam. Sustainability is key to the scheme which is aiming for 138 LEED Certified Gold and will include a water heat exchange, acting as a renewable "blue battery", to provide heating and cooling together with solar pergolas on the rooftops which will generate sustainable energy.
The homes will be built using modern methods of construction consisting of structural highly insulated prefabricated timber panels. They will offer four levels of accommodation with three and a half sitting above the waterline, no higher than 12 metres above the existing pier height. Half the lowest level will be below the waterline, with windows above, and will sit within the flotation unit to provide buoyancy to the rest of the structure. There will be a combination of townhouses, duplexes and apartments with balconies and roof terraces and easy access to a boat mooring, designed to adapt to different mix of units as the evolving market dictates.

Each island will have its own character and offer different types of amenities from numerous pocket parks, wetland fringes providing natural habitats, a public harbour walk and canal-side pathways to event spaces, retail, cafes and restaurants at the water's edge and a gourmet market. The development will be pedestrian access only, served by water taxis and private boats.
"It will be a wonderful neighbourhood and a catalyst to activate this stretch of the harbour and possibly beyond," says Richard Coutts. "We are not only creating homes in strategic locations but are activating the waterfront for the public and providing new green spaces. The different identities of each island will mean that the total development will be greater than the sum of its individual parts."
Koen Olthuis says: "Our scheme marks a tipping point for cities looking to unlock their water potential. With this project, Boston will be able to showcase the new philosophy of Rise of the Blue City in which water space is used to enhance liveability along the waterfront and to bring solutions to combat the effects of sea-level rise and urbanisation".
The practices of Waterstudio and Baca have been collaborating recently on other projects nationally and internationally – from marina designs to hotels and floating hospitality and leisure.
About Baca Architects
Baca Architects was founded in 2003 by Richard Coutts with the aim of integrating landscape and low carbon technology to create beautiful and enduring developments.
About Waterstudio
Waterstudio is an architectural firm based in the Netherlands that is confronting the challenges of the problems posed by urbanisation and climate change.
https://mmcmag.co.uk/wp-content/uploads/2021/04/MMC1-13.04.21.png
320
800
Lyn
https://mmcmag.co.uk/wp-content/uploads/2021/11/MMC-ONLINE-LOGO4-small-300x62.png
Lyn
2021-04-12 14:50:17
2021-04-12 16:35:23
Floating Neighbourhoods – A Solution for City Expansion