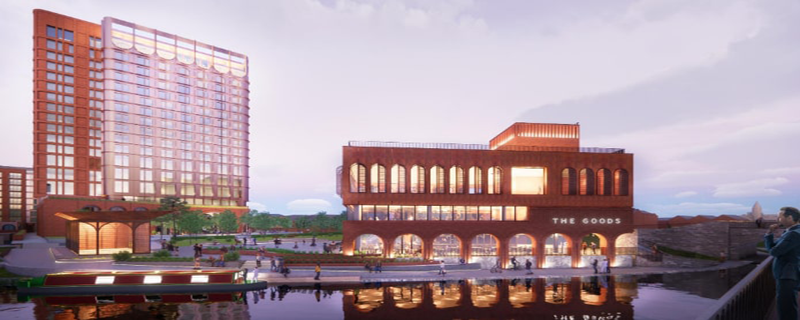 UK'S 1ST COHESIVE HOMES SCHEME, TO SERVE THE COMMUNITY OF NOTTINGHAM
Ambitious plans for a 'ground-breaking' cohesive-use scheme at Nottingham's The Island Quarter development have been submitted.
The latest phase – which is the flagship of Conygar's The Island Quarter development – would include a 223-room hotel, 247 residential apartments and an extensive food and beverage area.
James Dilley, director at architect Jestico+Whiles, says the design focuses on the spirit of community, conviviality and collaboration. "The design we have brought forward really reflects the synergy of uses that the wider scheme will create, and we hope will create a ripple effect across the entire site and across Nottingham itself."
Richard Watson of developer Conygar adds: "The Island Quarter is the biggest city-centre regeneration schemes in the UK, and we believe it is vital for the development to bring something outstanding to Nottingham, for which the city and the Midlands can be proud of."
"We are fortunate to have a site in Nottingham with its great heritage and an international reputation – with developments such as this and, among other schemes, the renovation of Nottingham Castle, we want to ensure it retains its rightful place as the Queen of the Midlands and a core UK city."
The proposal is believed to be the UK's first cohesive-use development, incorporating multiple uses within the same flowing space, similar to Roppongi Hills in Tokyo.
Several aspects of the design have been created to meet changing needs in the aftermath of the pandemic, such as flexible spaces, relaxing community areas and green public realm.
David Jones, director at Axis Planning, which has coordinated all planning-related inputs on the scheme since its inception, comments: "This latest phase of the Island Quarter is ground-breaking in a number of ways. The ground floor provides an extensive, mixed-use food and beverage-led experience incorporating restaurant, bar, forum and atrium space in a way that hasn't been done before in the UK."
"The mix of linked buildings together with integral and adjacent open spaces provides a fluidity within the development which will be essential in a post-Covid world. We're convinced this will create a truly unique experience for people to visit and to stay, live, work and play."
The Island Quarter masterplan, which received outline planning approval in April 2019, has been designed with a full lifecycle of uses, ranging from student housing, office space and community living.

SKY EDGE, SHEFFIELD
The first phase of properties to be released at a new Sheffield development has been unveiled by UK Build to Rent developer Placefirst.
Skye Edge, a £16.5 million housing development, is set to 'create a thriving family community' of 113 new homes comprising 69 three-bedroom and 44 four-bedroom townhouses.
Situated at the boundary of Norfolk Heritage Park and the Manor Area of Sheffield, the scheme promises a 270-degree view of the cityscape and moorland to the west. The site had remained vacant and awaiting redevelopment since 2005.
The first 21 properties and show home are now open to the public for viewings. Each home maintains modern living with stylish interiors and practical layouts. They feature a separate lounge and kitchen, with residents able to enjoy both private and communal garden spaces.
Skye Edge is a 10-minute walk to the city centre and is nearby to seven primary and secondary schools. Economic growth in Sheffield is also outperforming other regional cities and is on target to create an additional 70,000 jobs by 2025.
The scheme is underpinned by Placefirst's aim to offer a viable alternative to home ownership. As well as letting properties, the developer designs, builds, maintains and manages the homes. Work on the development is expected to be completed in the autumn of 2021.
David Mawson, chief executive for Placefirst, comments: "Offering arguably the best views in Sheffield, this is a major landmark development for us and one which we feel will be embraced by families seeking quality built homes and superb commuter routes into the city centre."
"Expensive house prices can be out of reach for many hard-working families. We therefore believe that renting can be a long-term alternative to buying a house and feel this development will appeal to those wanting the security of moving to a new home for the rest of their life – without the financial pressure of being saddled with a mortgage."
"We look forward to welcoming people to Skye Edge to view our beautiful new homes and experience the views they have to offer," he concludes.
EMERGENCY HOUSING SCHEME, HIGH WYCOMBE
An installation phase for 58 apartments in High Wycombe has also been completed as part of a £9 million emergency housing scheme.
Due for completion this summer, the project is being delivered by an innovative partnership between off-site construction specialists Premier Modular and Claritas Group.
Manufactured and fully fitted out off-site, the highly sustainable apartments are being completed in a much shorter timescale to help meet the rising demand for housing for homeless people.
Each home arrived on-site complete with shower rooms and kitchens. The apartments are built around a central courtyard which will provide a valuable amenity space for residents.
"There is an urgent need across the UK for emergency accommodation for people, who, often through no fault of their own, have become homeless," says Dan Allison, director of Premier Modular.
"These individuals and families need housing for a short period of time, while a more permanent place is found for them to live. Offsite construction is very well suited to building this type of housing."
"As well as meeting the required standards for quality and sustainability, we can reduce the completion time to deliver new homes more quickly for people on emergency housing waiting lists."
The building has been designed to enhance the local area and to deliver a high standard of environmental performance. The energy-efficient 'fabric first approach' to the development's construction will increase the level of insulation, reduce heat loss and air infiltration, and will use roof-mounted solar panels to generate electricity.
Jon Wardle, chief executive officer of Claritas Group, adds: "Temporary housing is a challenge for many local authorities. We are extremely proud to be involved in this exciting project with Buckinghamshire Council and Premier Modular."
"Our innovative partnership with Premier combined with the Council's ambition and desire to think MMC first, are providing measurable benefits in time, cost and quality."
PHOTOVOLTAIC PANELS, LANCASHIRE
A 'pivotal' residential development featuring 250 properties with photovoltaic (PV) solar panels has completed in Nelson and Colne in Lancashire.
Delivered by social housing provider Together Housing Association, supply chain partners Avonside Group and structural engineers Howard Ward Associates (HWA), the scheme is the result of a three-year project to help revolutionise the sector's usage of renewable energy.
The £2 million project sees 170 of Together Housing's homes in Colne and 80 properties in Nelson fitted with solar panels, as well as on-site battery storage units which fill with solar energy during the day, storing power for use whenever it is needed.
The solar panels were delivered by Avonside Renewables, a division of Avonside Group. It appointed HWA in 2019 to assess the different types of properties, determining which were suitable and had the capacity for solar panels and battery systems.
The project marks a significant step towards converting England's homes to renewable energy sources, and to the UK's target of becoming a net-zero country by 2050.
Residents of the properties have reported substantial cost savings during the first few months since the solar panels and battery storage units were installed. They can expect to save as much as £300 per year on their energy bills.
There is the potential to roll out the project to 20,000 of Together Housing's 37,000-plus homes across the country once the success of the landmark scheme has been assessed.
Giles Ward, director at HWA, says: "As one of the largest projects of its kind in social housing, we were proud to impart our expertise to help determine the feasibility of the properties. It was a pleasure to work with Avonside Group, which has worked with many businesses and organisations in multi sectors, to reduce carbon emissions."
Etienne Hilaire, branch manager at Avonside Group, adds: "Solar and storage systems offer social housing providers the opportunity to open up many cost-saving and energy-reducing benefits to both their tenants and their business."
"This was a substantial project for Together Housing and it's fantastic what has been delivered. We have already seen the positive impact this is having, with tenants in Colne and Nelson reporting a reduction in their energy bills, thus helping to combat fuel poverty."
He concludes: "The potential to roll this project out to similar housing schemes around the UK could have an incredible impact on our energy consumption on a national scale."
Source: Property Investor Today

https://mmcmag.co.uk/wp-content/uploads/2021/01/MMC1.png
320
800
Lyn
https://mmcmag.co.uk/wp-content/uploads/2021/11/MMC-ONLINE-LOGO4-small-300x62.png
Lyn
2021-01-11 10:49:50
2021-01-11 10:55:29
HOUSING AND COMMUNITY DEVELOPMENTS