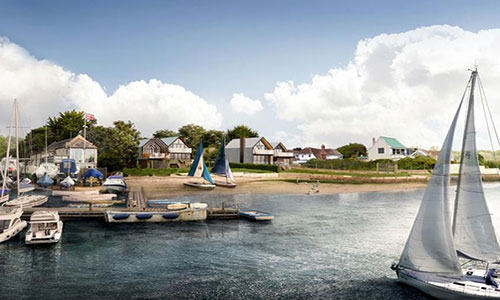 With flood risk being the primary danger to waterfront homes across the UK, Baca Architects has won the go-ahead for two new houses on Christchurch waterfront in a decision that not only reflects the firm's exemplary approach to flood resilient design but also overcomes an inherent flaw in national planning policy on building within floodplains.
The houses feature the latest in sustainable architecture. Designed to be manufactured off-site, these highly insulated homes will have low carbon footprints and can be assembled quickly. The interiors will be bathed in sunlight and generous balconies will provide shade to full-height glazed windows that afford panoramic views out over the estuary. Importantly, all bedrooms are located above ground level while the living room, kitchen and dining room are approximately 2.5 feet above the external ground level and outside the flood plain. All electrical services will be brought in from the first floor and all electrical sockets will be raised. Windows and doors will allow water control and safe egress at multiple locations around the building. In the event of a flood, and should water enter the ground floor, the internal construction is designed to be resilient to water and to enable effective cleaning and fast recovery.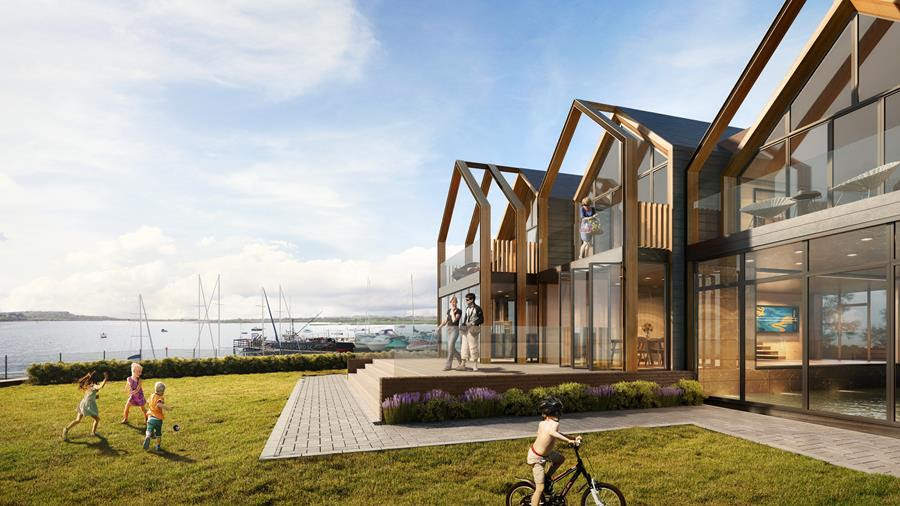 The successful scheme – the first of its kind under the recent changes to National Planning Policy Framework (NPPF) – challenged the effective prohibition on homeowners, developers and local authorities to re-build innovatively and safely on sites where pre-existing housing stock had already suffered, or was likely to suffer, flooding. The site in Christchurch is currently designated an area of low flooding risk but is calculated to progress to one of high risk over the next 100 years and the client wished to replace two dilapidated bungalows with two flood resilient homes. Whilst the proposal offered significant betterment in terms of safety on-site, improved on-site drainage and no net increase of development in the flood plain, the project ran into a major obstacle due to changes to the NPPF in 2018. These aimed to put an end to new waterfront housing developments but in so doing also posed a direct problem for owners of existing waterfront or flood plain homes seeking to protect their properties.
Error, group does not exist! Check your syntax! (ID: 2)
Richard Coutts, Principal of Baca Architects, explains:
"This is a huge issue for waterfront and floodplain homeowners.  If they wish to upgrade pre-emptively or rebuild in the wake of a destructive flood event, they may well be stalled by the policy phrasing and ultimately rendered homeless. In the context of increasing flood plains and worsening flood events, building innovatively and safely needs to be embraced, marrying the best in architectural design with a focus on flood resilience and the protection of the environment. Flood resilience does not have to compromise design aesthetic or budget so long as it's designed in from conception.  The planning success of the Christchurch application sets the precedent of safeguarding such schemes where they are on sites of flood risk and where development already exists".
Baca's scheme was granted planning consent earlier this month and is expected to be on-site in summer 2020.
https://mmcmag.co.uk/wp-content/uploads/2019/09/mmc-news-24.9.19-header.jpg
300
500
Lyn
https://mmcmag.co.uk/wp-content/uploads/2021/11/MMC-ONLINE-LOGO4-small-300x62.png
Lyn
2019-09-24 11:35:12
2019-09-24 12:34:27
Offsite design - future proofing against flood damage