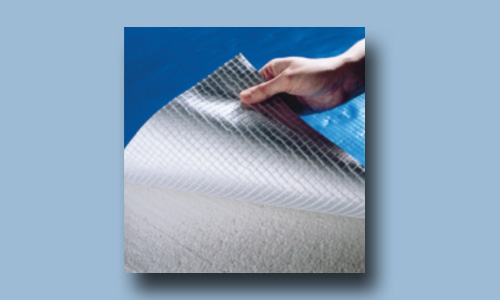 by Simon Lloyd – Kiwa Building Products
The concrete ground floor of a building must be constructed to:
resist the passage of ground moisture to the upper surface of the floor covering;
not be damaged by water vapour and water from the ground;
not let interstitial condensation adversely affect the structural and thermal performance of the concrete ground floor nor promote surface condensation.
A concrete ground floor might also need to protect the occupants of a building from ground gases.
A concrete ground floor will meet these requirements when a damp proof membrane (DPM), water proof or gas proof membrane is incorporated in the floor build-up.
Such a membrane could be a flexible, chemically resistant, co-polymer thermoplastic sheet, manufactured in accordance with BS EN 13967 from low-density polyethylene. Some membranes have integral aluminium foil for resistance to methane, carbon dioxide and radon gas. On site, the membrane sheet laps can be hot weld jointed or the laps are bonded using double-sided self-adhesive jointing tape and, in some cases, sealed with single-sided self-adhesive lap tape.
A membrane at least 300 μm thick with sealed joints can be laid under a ground-supported concrete slab to prevent the concrete from gaining moisture through capillary action. If the ground could contain materials that are dangerous to health or cause failures in buildings e.g. water soluble sulphates, contaminants, chlorides, volatile organic compounds (VOCs) or ground gases, a suitable membrane should be specified.
A membrane laid above a concrete slab should be protected by an insulation layer and/or screed layer, prior to application of a floor finish.
A DPM can act to prevent the ingress of ground water vapour, and ground liquid water when not subject to hydrostatic pressure.
A water proof membrane can be used for protection against liquid ground water under hydrostatic pressure to BS 8102 Type A, if the joints can be hot welded. It can provide waterproofing protection Grades 1 and 2; and Grade 3 when part of a combined waterproofing solution.
Error, group does not exist! Check your syntax! (ID: 2)
Cellar and basement tanking membranes can be used with cavity drainage wall membranes and ancillaries as part of a type C basement waterproofing system. A suitably designed sealed system can drain away groundwater in a controlled manner.
Ground gas membranes protect a building and its occupants from the ingress of ground VOC vapours and liquids, and methane/carbon dioxide ground gases, in accordance with BS 8485 and CIRIA C748.
Design of ground VOC vapour and ground gas protective measures for buildings on contaminated land or in areas of risk must be in accordance with the recommendations in CIRIA C665, C716D, C735, C748, R149, BS 8485 and BRE Report 414.
When medium to high levels of ground VOCs and ground gases are present or when the generation of gases still occurs, a suspended concrete ground floor or an open void beneath a ground supported concrete ground floor, should be used to ventilate ground gases to atmosphere.
For installation, a surface blinding layer of soft sand may be needed to fill voids in the hardcore base, to prevent the risk of puncturing during pouring of a concrete slab, or sand blinding of a concrete slab to prevent puncturing during installation of a screed layer.
The installation of a membrane must achieve complete continuity and integrity across the footprint of a building. It must be sealed to the perimeter damp proof course in walls, at piers and around service pipe penetrations.
In ground VOC and ground gas barrier applications, airtight seals must be formed around all service pipe penetrations using taped membrane or top hat units suitable for the application.
https://mmcmag.co.uk/wp-content/uploads/2019/11/KIWA.jpg
300
500
Lyn
https://mmcmag.co.uk/wp-content/uploads/2021/11/MMC-ONLINE-LOGO4-small-300x62.png
Lyn
2019-11-04 13:44:04
2019-11-04 13:57:33
Protecting buildings from water, sub-soil gases and harmful substances in the ground