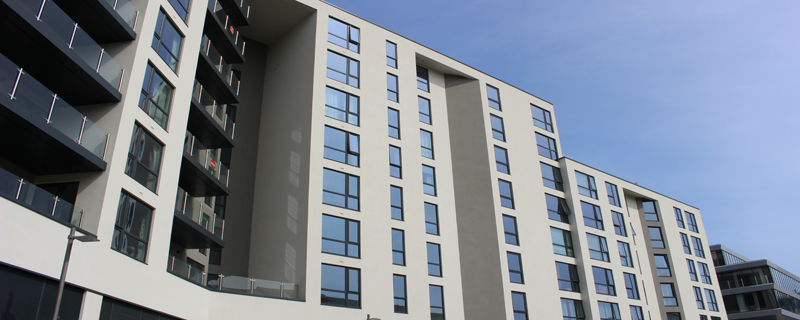 John Duckworth, Deceuninck Head of Commercial Sales says the latest window technology and expertise are pushing the boundaries for commercial windows.
In recent years there have been significant advances in window technology which give developers and specifiers a choice of materials, styles and designs to choose from. The very best of this window technology, when combined with advice and guidance from experienced windows suppliers, synchronises perfectly with modern construction methods to create the right aesthetics, reduce installation time, and improve the development's overall performance.
Deceuninck is the commercial fenestration expert
We are a window systems company with strong ties in the commercial sector. Our flagship commercial 5000 window with Linktrusion™ technology is a popular choice with developers because it gives a true alternative to aluminium. Linktrusion offers the best attributes of aluminium and PVC-U in one system, combining pultruded glass-fibre with PVC-U for strong but light windows with slim sightlines and outstanding thermal efficiency. When used with Deceuninck's Decoroc colour finishing system, it's hard to distinguish it from aluminium in looks, touch or performance.
Commercial partnerships
Deceuninck windows and doors are engineered to create the perfect symmetry and balanced sightlines that translate into beautiful looks and performance, combined with outstanding security, energy efficiency and weather performance. But product is just half the story and Deceuninck's strength in the commercial sector comes from our ability to work with all parts of the supply chain and give advice in the early stages of product specification. We work with a number of prestigious developers including Berkeley Group, Crest Nicholson, Countryside Properties, Weston Homes and Catalyst Housing, offering bespoke service and support. Our commercial and technical teams and partner fabricators have extensive experience in off-site, modular and steel frame construction and we offer guidance on the interface of windows in modern construction methods, working with EPDM suppliers such as Tremco at specification stage. We work closely with developers, specifiers, fabricators and contractors to see the full picture of how windows work within the build, be it timber frame, steel frame or modular, to ensure products meet technical specifications and are correctly installed and perform effectively in the finished project.
Our ability to work closely with supplier and end client to provide a full design solution was highlighted in the recent Springfield Park development with Weston Homes. This was a complex development of over 300 apartments in one tower and three low storey blocks. It incorporated a concrete frame construction with the windows fitted on front of the frame in steel brackets, followed by EPDM shrouding. Deceuninck's commercial and technical teams worked with window fabricator FastFrame to provide the technical information required for the interface and correct installation of the windows. Our Linktrusion 2500 Fully Reversible Window (FRW) in Decoroc Quartz Grey successfully broke the original specification for aluminium because it combined slim, contemporary profiles with outstanding thermal and acoustic performance. The development, close to roads, railways and the river Thames called for acoustic windows to minimise the impact of external noise and low U-Values to meet stringent energy requirements. Deceuninck's FRW comfortably met these requirements with decibel reductions in the mid-40s and U-Values as low as 1.3 W/m2K.
Experts in modular developments
Deceuninck has experience in modular developments and the Hinkley Point Worker Accommodation development showcased our expertise. This was a technically demanding project in which 80% of the 1,400 windows were installed into pre-fabricated modules off-site. Working in partnership with fabricator Dempsey Dyer, Deceuninck's technical team ensured our Tilt and Turn windows met the highest energy and weather requirements both off-site and in installation. Once assembled, the windows passed the most stringent CWCT water testing, normally only used for curtain walling. Our technical team worked with Dempsey Dyer to successfully cut the windows' decibel rating down by RW35db to RW40db and RW43db, helping to minimise the impact of noise on workers to make a quieter, healthier environment.
More recently, Dempsey Dyer is supplying Deceuninck's 2500 series windows for university student accommodation. This modular construction project in conjunction with a major international developer will see the windows shipped to Morocco for installation in a modular factory, with further commissioning on site in the UK. Together with Dempsey Dyer, we've facilitated this project by giving advice on design, purge ventilation and interface detail. Dempsey Dyer is also sending a team to Morocco to train workers on effective modular installation. It's an exciting project and we predict the strong trend for modular construction will continue to grow.
Call 01249 816 969 or visit the website to see more commercial case studies and learn more about our commercial work. You can also download Deceuninck's full product portfolio from the NBS National BIM Library at:
www.nationalbimlibrary.com/deceuninck-ltd
https://mmcmag.co.uk/wp-content/uploads/2021/02/decueninck.png
320
800
Lyn
https://mmcmag.co.uk/wp-content/uploads/2021/11/MMC-ONLINE-LOGO4-small-300x62.png
Lyn
2021-02-10 14:47:58
2021-02-10 15:00:18
Setting new standards for commercial windows