Climate change is an urgent issue that needs to be addressed, particularly in the construction industry as buildings are responsible for 39% of global energy related carbon emissions1. This has led to demands to use more timber, and the release of new resources addressing concerns over fire safety in timber construction. For example, in March, the timber industry launched a new fire safety website Fire Safety – Wood in Construction, which is designed to give all construction professionals free access to information and guidance all in once place. So what can aide fire safety in timber buildings for MMC?
Flame retardant panels
For applications where enhanced fire protection is needed, flame retardant panels should be specified. The right flame retardant panels will help improve fire safety when timber is the main building material. Flame retardant wood panels have been developed specifically for the use in fire-rated applications where a Euroclass B or Euroclass C material is required. As wood is combustible, the highest rating a wood panel can achieve with added flame retardance is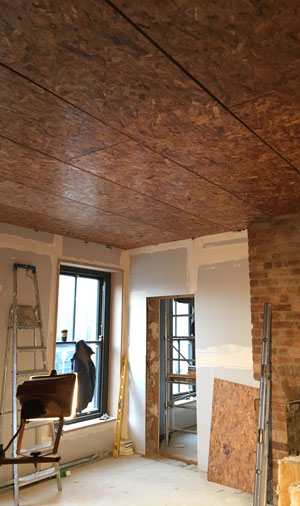 Euroclass B.  Wood panels are treated with flame retardant solution to enhance its reaction to fire to limit the spread of flame and slow the development of a fire, especially in the very early stages of a fire when evacuation is vital.
What's even more crucial, is that flame retardant wood panels also have a much lower burn temperature after ignition, and a slower char rate. This means that the panels burn far more predictably and allows occupants more time to evacuate from a building.
Making the smart choice
When it comes to specifying flame retardant panels for a MMC project, SMARTPLY MAX FR B from MEDITE SMARTPLY is the ideal product. It is a structural, moisture resistant OSB/3 panel with outstanding and reliable reaction to fire properties and is ideal for use where strength, moisture resistance and improved flame retardance are paramount.
A water-based, non-toxic flame retardant solution is applied to the wood chips during manufacture, and the panel achieves a Reaction to Fire Classification of B-s2, d0, and Bfl-s1 (flooring) in accordance with EN13501-1. It is the maximum rating for reaction to fire that an engineered wood panel can achieve – offering great peace of mind to contractors, architects and specifiers.  Since the wood chips are treated during manufacture, no additional flame retardant edge treatments are required when the panel is cut. In addition, light sanding of the surface of the panel will not affect its reaction to fire performance because the flame retardant treatment is consistent through the panel thickness. However, excessive sanding of wood panels is not recommended as it may affect other essential characteristics in use.  SMARTPLY MAX FR B has no structural defects such as knotholes and core voids, making it easier to work with. It cuts easily, will not delaminate and gives consistent results.
Suitable for both dry and humid interior applications. SMARTPLY MAX FR B is suitable for structural use in both Service Class 1 (dry interior) and Service Class 2 (humid interior) applications.
These innovative panels are independently certified for the most demanding structural applications in permanent constructions (wall sheathing, flooring and roofing), as well as general free-standing applications where enhanced reaction to fire performance is required. Applications include: timber frame construction, furniture, shop fitting, general joinery, exhibition stands, and stage construction.  Environmentally conscious products
With the growing demands to make timber buildings safer, there are also calls to use more sustainable timber. MEDITE SMARTPLY meets both of these demands.  MEDITE SMARTPLY is renowned for adapting products and services to suit end users' needs whilst maintaining a consistent stance on sustainability and creating environmentally conscious products that add value throughout the supply chain.
SMARTPLY OSB is made using only newly grown pine and spruce, including the tops which are not used to make any other wood-based product. It's manufactured by compressing precisely engineered strands of woods with resins at high temperature to create an incredibly strong and versatile panel suitable for onsite and offsite construction.  MEDITE SMARTPLY's environmentally conscious products ensure a sustainable building material, storing carbon throughout the lifespan of the product and the building they are used within. Sourced from our sustainably managed FSC certified forests in Ireland2, MEDITE SMARTPLY's engineered wood panels are proof of the company's commitment to creating products that contribute to sustainable and healthier environments.  The MDF and OSB ranges also provide some of the most environmentally efficient building materials on the market, with product-specific Type 3 Environmental Product Declaration3 to support this.
---
CLICK HERE to find out more about SMARTPLY MAX FR B and how it can help in MMC applications
---
1 Embodied Carbon – World Green Building Council (worldgbc.org)
2 MEDITE SMARTPLY is part of Coillte, an innovative, FSC certified Irish forestry and forest products manufacturer
3 mdfosb.com/en/sustainability/our-sustainable-products/environmental-product-declarations
https://mmcmag.co.uk/wp-content/uploads/2023/04/medite-mmc-spring-23.jpg
320
800
Lyn
https://mmcmag.co.uk/wp-content/uploads/2021/11/MMC-ONLINE-LOGO4-small-300x62.png
Lyn
2023-05-16 11:09:52
2023-05-16 11:09:52
Enhanced fire protection with SMARTPLY