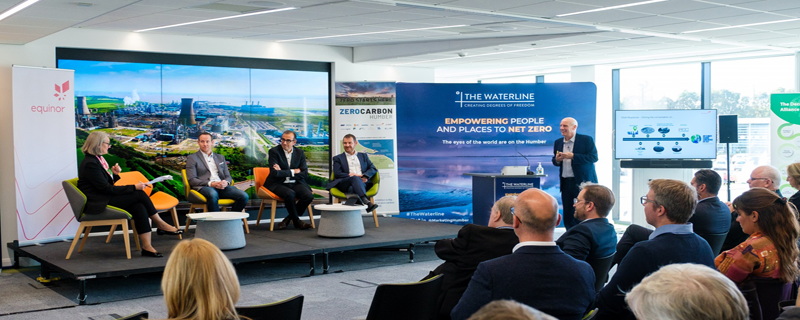 Leaders from some of the UK's most pioneering organisations have joined forces to explore the role of hydrogen in decarbonising the country's industry, transport, and domestic heating sectors – which amount to 40% of the UK's emissions, and the equivalent of 180 million tonnes of CO2.
As part of a UK-wide roadshow on the approach to the much-publicised UN Climate Change Conference (COP26) in Glasgow, the 10-stop tour visited ground-breaking projects across the country. This included Northern Gas Networks' Hydrogen House – the UK's first homes to feature 100% hydrogen gas appliances – Thames Estuary, Equinor's Hydrogen-to-Humber (H2H) Saltend project, Fuel Cell Systems, Johnson Matthey, DNV, and the Shell Learning Zone at the Aberdeen Science Centre.
As part of the roadshow, Pilkington UK – together with HyNet and HyDeploy – shared the news that its Greengate site in St Helens has recently undertaken two pioneering demonstrations of using hydrogen to replace natural gas in powering the furnace.
Each day during the trial, two tonnes of hydrogen were consumed – which could have provided an equivalent hydrogen blend to approximately 30,000 average-sized homes.
Elsewhere, Welsh Water – which announced its net zero by 2040 target earlier this year – shared details of its feasibility work to produce up to 2,000 kg per day of renewable bio-hydrogen at the site – enough to support a fleet of 100 hydrogen buses.
DGA chair Chris Barron, and director of gas networks at Costain, said: "Hydrogen – like many other decarbonised gases – can help us meet the UK's ever-pressing need for net zero climate emissions, at low cost, with minimal disruption, and while creating thousands of sustainable jobs across the country.

"It has a particularly valuable role to play in the notoriously hard to decarbonise sectors – heavy transport, industry, and heat. As a nation, we rely heavily on these industries, but they account for over 40% of UK greenhouse gases. They're therefore the elephant in the room if we don't work together to create a deliverable pathway to a net zero energy infrastructure."
Now complete, the tour explored the need for a regional focus, as part of the Government's roadmap and Ten Point Plan, and the impact that the public could have if they were better informed and engaged with the subject.
Each stop was handpicked to help drive the conversation on hydrogen and the role it plays in the country's energy transition strategy – with chosen locations showcasing their own perspective on the hydrogen agenda, to not only raise awareness at policy level but among regional communities too.
Matt Buckley, UK managing director of Pilkington UK, part of the NSG Group, explained: "We are proud to sit at the forefront of hydrogen innovation in the glass industry. Our team's collaborations with HyNet and HyDeploy are enabling huge steps forward to be taken, as we work towards the decarbonisation of our activities.
"Both trials have successfully demonstrated that it is possible to use hydrogen to safely and effectively fire a float glass plant. We now look forward to HyNet being fully up and running from 2025 in order to turn these demonstrations into reality."
Ben Burggraaf, head of energy at Welsh Water added: "Producing bio-methane or even bio-hydrogen is an important step towards meeting our ambition to reach net zero by 2040 and achieving a 90% reduction in emissions by 2030.
"Using the biogas to produce renewable fuels could have up to 10 times larger decarbonisation impact than using it to produce renewable electricity, in particular when combined with Carbon Capture Utilisation and Storage technology – for example, producing food grade CO2."
Andy Cornell, CEO at ABSL added: "The UK produces 30 million tonnes of waste a year which could generate up to 20 % of our energy needs. Sustainable production of biomethane and biohydrogen is critical for energy security."
Iain Morley, hydrogen transformation manager at Wales and West Utilities, commented: "Bio substitute natural gas which Wales and West Utilities inject into the network can play a big role in reducing carbon emissions going forward. The HSE exemption of up to 1% hydrogen into the natural gas system delivers up to 5,000 tonnes of CO2 reduction which is the equivalent of 2.5k homes in the local area from the ABSL facility."
Dr Phil Ingram, senior business development manager, low carbon hydrogen at Johnson Matthey, said: "Johnson Matthey was delighted to welcome the Decarbonised Gas Alliance roadshow to our sites in Teesside.
This is where our scientists and engineers created and continue to develop our award-winning low carbon hydrogen technology, which reduces CO2 emissions by over 95%. Manufacturing blue hydrogen at scale is a critical early step in decarbonisation, enabling us all to achieve net zero emissions targets and limit global temperature rises."
Through innovation, collaboration, and greater public awareness throughout the regions, hydrogen can play a role in safely, quickly, and cost-effectively decarbonising UK infrastructure – providing the country with a stable pathway to net zero emissions.
https://mmcmag.co.uk/wp-content/uploads/2021/11/MMC3-05.11.21.png
320
800
Lyn
https://mmcmag.co.uk/wp-content/uploads/2021/11/MMC-ONLINE-LOGO4-small-300x62.png
Lyn
2021-11-05 12:26:11
2021-11-05 12:26:11
UK firms rally to highlight hydrogen's role in becoming a net zero nation