German aerial-taxi company Lilium has unveiled its design guidelines for modular vertiports that could be placed on top of office blocks, car parks or shopping centres.
Lilium, which has developed a five-seater jet-powered electric air taxi, created the design guidelines as part of its plan to launch an all-electric air taxi service in multiple cities around the world by 2025.
The modular and prefabricated structures were designed as a blueprint for developers that want to incorporate a vertiport into upcoming projects or existing buildings.
Lilium has designed an urban vertiport that could be placed on top of a car park
"We have no plans to sell the design to developers," explained head of architecture at Lilium Riko Sibbe.
"Instead, we see developers and partners using our design guidelines as a blueprint for developing vertiports specific to their contextual setting,"
"We intend to begin and complete construction of vertiports ahead of our commercial launch in 2025, so it won't be too long from now!"
The vertiport would consist of a take-off area, parking spots and a terminal building
Lilium aimed to design a simple, functional vertiport that only incorporated the elements vital for running its future aerial taxi service.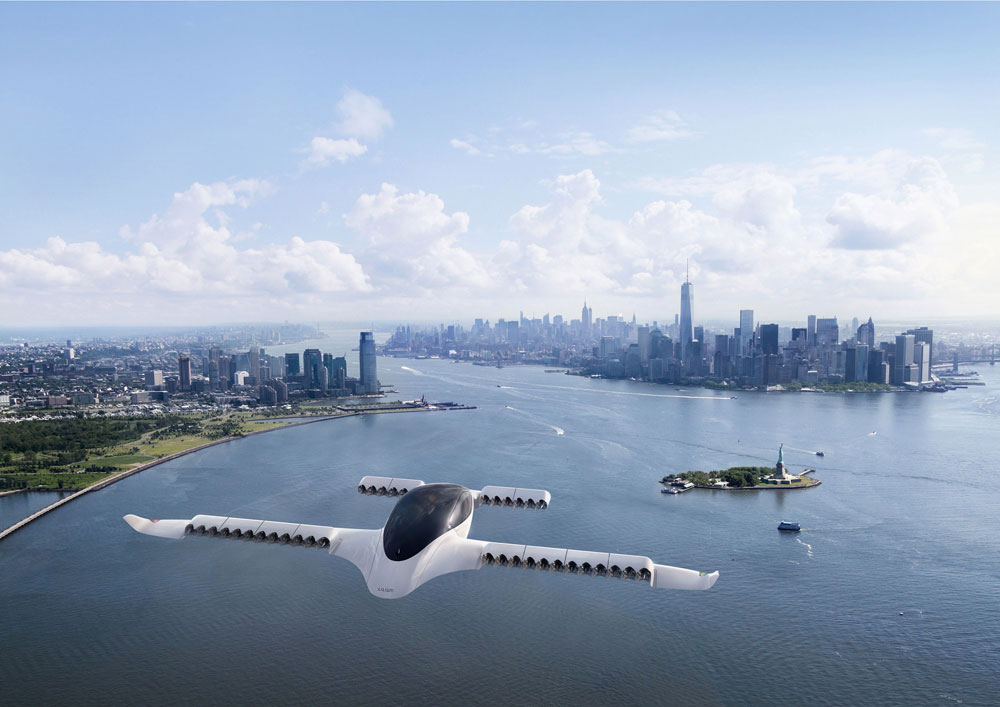 The structure would be built from a series of prefabricated modules so that the scale of the vertiport can be adapted to its site and demand for the taxi services. Within cities, they could be built on top of office blocks or car parks.
"The lean and modular design allows us to tailor vertiports according to its specific location quickly and affordably without sacrificing design," said Sibbe.
"Within cities, this might mean placing a vertiport at an existing transport terminal, next to a shopping centre or on top of a busy car park. In other, less built-up locations vertiports might be placed at ground level, next to a business park or housing development."
The modular design could be adapted to different sites and for varying levels of demand
Each vertiport will include three major elements: a take-off area, which will be based on current heliport regulations; parking bays where passengers will embark the taxis and the vehicles will be charged; and the terminal building.
The number of parking bays and take areas would be determined by demand and availability of space.
"A small town might just have a single parking bay next to the landing pad, while a city-centre location might have 10 bays and two landing pads," said Sibbe.
"Vertiports can be scaled up or down based on a number of factors, including passenger demand and available space."
While the buildings will be similar to current airports, without the runways, Lilium has removed much of the retail and restaurants from the terminal building to streamline the process.
"Lilium vertiports will be optimised for regulatory compliance and safe and reliable operation, just like any airport," said Sibbe.
"But unlike airports which are also home to retail hospitality and duty-free shops, our terminals are focused on reducing processing and waiting to a minimum in order to deliver a seamless and frictionless experience for passengers," he continued.
"Whilst airports give passengers the feeling of losing time, Lilium vertiports are designed to give customers time back."
Lilium is not the only company aiming to develop a network of sky taxis. Last year ride-sharing company Uber revealed eight design concepts for its "skyports" ahead of the commercial launch of Uber Air – its app-based flying taxi service – in 2023.
SOURCE: Deezeen
https://mmcmag.co.uk/wp-content/uploads/2020/07/mmc-news-3-1.07.20-1.jpg
300
500
Lyn
https://mmcmag.co.uk/wp-content/uploads/2021/11/MMC-ONLINE-LOGO4-small-300x62.png
Lyn
2020-07-15 08:37:10
2020-07-27 11:38:20
ALL ELECTRIC AIR 'TAXI' PORTS BY 2025