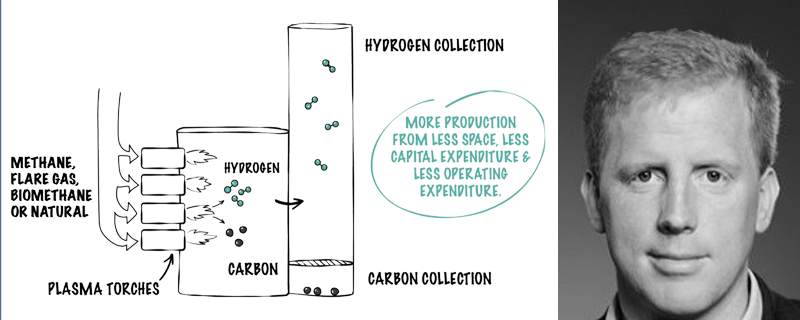 Founder and CEO, Tim Davies
Importance of Global Net Zero underlined as KPMG Private Enterprise names HiiROC Global Tech Innovator 2022.
In November, HiiROC was named winner of the KPMG Private Enterprise Global Tech Innovator award at the final event in Lisbon, Portugal, overcoming fierce competition from over 1,100 applicants across 22 countries and jurisdictions during the national stages.
Tim Davies, HiiROC's Co-Founder and CEO, said:
"It is such an honour for HiiROC to be selected as this year's KPMG Private Enterprise Global Tech Innovator winner. The competition in the global finals was really impressive, and we're thrilled to be recognized among such an amazing group of brilliant innovations and entrepreneurs. We sincerely thank KPMG Private Enterprise and our KPMG Private Enterprise UK team for their support at every step in the process. We're ready and eager to take the next step forward for our company." Davies continued, "The award is a great reflection of the amazing team at HiiROC, so we are applauding their work as much as possible."
Conor Moore, Partner and Global Leader, KPMG Private Enterprise Emerging Giants, said:
"Last year was the competition's inaugural year in which the bar was set incredibly high! With even more companies competing this year, I think the standard has risen to yet another level. We were so excited to be able to bring 22 future tech titans to the finalist stage and capture the world's attention. These tech entrepreneurs are the builders of the future that should applauded and supported."
Warren Middleton, KPMG Private Enterprise, Emerging Giants Leader in the UK, said:
"Hydrogen is the new green fuel of the future. We saw the potential in HiiROC immediately. We couldn't be more excited about the recognition they have received today, and the opportunity to help them showcase their brilliant innovation, to continue to grow their business and transform the global energy system. As with all of the finalists in the competition, HiiROC is a modern success story of entrepreneurialism, innovation and ambition."
---
---
HiiROC Background
HiiROC has developed and patented a new process for creating hydrogen: Thermal Plasma Electrolysis (TPE). Using a fraction of the electricity and cost of water electrolysis, HiiROC produces hydrogen without creating CO₂ – unlike steam methane reforming. TPE is an electrically driven process using a plasma torch to decarbonise hydrocarbons, releasing the valuable, high energy density hydrogen and solid carbon black. HiiROC was founded in 2019 in the UK to commercialise its technology, with development and assembly facilities based in Hull, UK, where there is ready access to engineering expertise.
During 2020 and 2021, HiiROC raised £30m from investors including Melrose, Wintershall Dea, HydrogenOne, Centrica, VNG, Hyundai, CEMEX and Kia. HiiROC is fully funded to commercialisation, with a series of pilots planned for 2023 across a variety of key hydrogen sectors: these include industrial decarbonisation, blending to the grid, transportation and power generation. Enquiries about commercial opportunities have come from across the globe in an increasing range of sectors.
https://mmcmag.co.uk/wp-content/uploads/2022/11/mmc-24.11.22-2.png
320
800
Lyn
https://mmcmag.co.uk/wp-content/uploads/2021/11/MMC-ONLINE-LOGO4-small-300x62.png
Lyn
2022-11-24 12:27:01
2022-11-24 12:27:01
FUEL OF THE FUTURE