As the current skills shortage continues to threaten the UK construction industry, it's vital that manufacturers and suppliers make conscious changes to alleviate the pressures felt across the sector.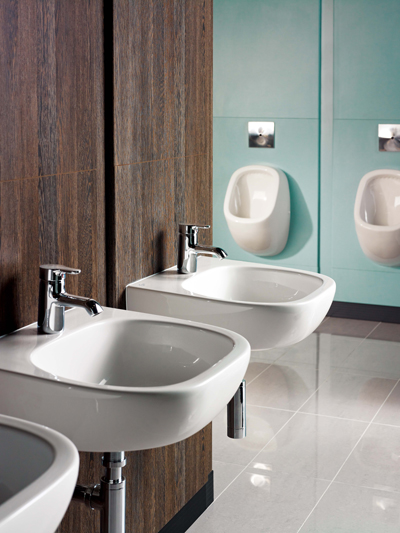 Venesta are renowned across the world for their continuous innovation in commercial washroom systems, including Vepps, their modular pre-plumbed panelling solution. Vepps, previously known as IPS, is the industry's first precision engineered pre-plumbed panel system designed by Venesta, which brings together cutting-edge technology and the latest in sanitaryware designs.
Specifying Vepps panelling in commercial washrooms not only saves you money over the life span of a project, but will also speed up onsite installation times by a staggering 50%. Here we shine a spotlight on all the benefits of choosing Vepps over alternative plain panel washroom systems, and how the solution is helping tackle the skills shortage.
Fewer people, more work.
Last summer, the industry training body CITB estimated that the industry would need another 217,000 workers over the next five years to offset the loss of resource, together with projected productivity gains and changes in the workload mix.
They forecasted a bounce back from the pandemic, with an 11% rise in construction output in 2021, followed by a steady 3% growth each year until 2025.
So where does that leave you? It's great news that the construction industry is strong, but getting materials and skills on site is proving to be an ongoing major headache.
Pre-plumbed units ease the pain.
More construction is being moved off site and pre-plumbed IPS panelling systems, such as Venesta's Vepps, are a good example of that.
Vepps is the next generation in IPS systems. By fitting and testing the sanitaryware and sanitary assemblies in the Venesta factory, everything is delivered as a ready-made unit. It can result in big time and cost savings without having to source carpenters and timber to build the frames and plumbers to fit the sanitaryware.
It's easier from a health and safety perspective too – less people, less manual handling and generally less dust and dirt too. Plus there's also the environmental benefit of a single delivery and significantly reduced packaging, compared to plain panel alternatives.
Four simple steps for installation.
Precision engineering ensures the metal framed panels are supplied to the exact measurements for your project. Installed in 4 simple steps, each Vepps unit can be up and running in half the time compared to traditional plain panels and without the need for specialist trades.
Reduced installation time, the need for fewer workers onsite and a speedier completion – all by specifying Vepps.
Flexibility and choice.
From cutting-edge sanitaryware to simple budget options, our close partnerships with Armitage Shanks, Ideal Standard and SanCeram give you complete flexibility to choose industry-leading products to complement your washroom design.
So whether you're working on a healthcare, education, retail or commercial washroom project, Venesta feel confident they'll have suitable pre-plumbed panelling solutions for you.
Simple and efficient ongoing maintenance.
Vepps' highly engineered, linear-bearing lift-up hinges allow easy access to concealed duct space for hassle-free ongoing maintenance. The 90˚ hinges ensure effortless, smooth movement time and time again while eliminating manual handling issues, preventing panels being damaged during maintenance.
Each pre-plumbed Vepps unit comes complete with a state-of-the-art dowel dock system which has been designed for perfect panel alignment, even when specifying a luxury continuous wood veneer effect finish. Dowel docks also incorporate panel protect buffers which prevent damage as panels are opened and closed time and time again for any maintenance works.
Guaranteed quality.
Each Vepps unit is manufactured, pre-plumbed and vigorously tested at Venesta's UK manufacturing facility, meaning that no plumbing or testing has to be done onsite, helping to speed up installation time even more. Not stopping there, Vepps comes with a rock-solid 10 year guarantee for added peace of mind for the end user.
Venesta's service defines them.
For every single project, Venesta's experienced, friendly and enthusiastic team make it their mission to guide you through from inception to completion – on spec, on time and within budget. Speak with the team to get help with Venesta's range of IPS products and the ordering process. If you have drawings, our Specification Managers can also produce NBS specifications and estimates within 24 hours, at no cost to you.
---
To discuss your current or future commercial washroom projects,
please call the team on

01474 353333
---
https://mmcmag.co.uk/wp-content/uploads/2022/10/venesta1.jpg
320
800
Lyn
https://mmcmag.co.uk/wp-content/uploads/2021/11/MMC-ONLINE-LOGO4-small-300x62.png
Lyn
2022-11-04 08:00:20
2022-10-19 15:00:39
Tackling the skills shortage with Vepps