Rainscreen cladding solutions feature on many different types of property, from apartment blocks and hotels to schools and railway stations, while the build-up behind the visible panels is relied upon to ensure their performance benefits extend to far more than being a first line of defence against the weather.
With this need for multi-functionality, industry specialist SFS has developed its offering on rainscreen cladding support systems to enable architects,  design engineers and cladding contractors to achieve an installation which delivers the required thermal, structural, fire and other performance targets in a safe and economic manner.
The manufacturer's NVELOPE range supports concealed and visible fastened systems to meet most project's aims while SFS Thermal Solutions ensures that the crucial challenge of closing the 'Performance Gap' can be adequately addressed. This requires not only understanding how the system can be correctly and efficiently installed on site; it also demands precise thermal modelling of the subframe to minimise point loss thermal bridging compromising the overall energy performance of the system.
David Fraser the Business Unit Manager for SFS, explained:
"As a key aspect on many building façades across our built environment, rainscreen cladding is a key contributor to a property's overall energy performance, including for the huge number of older buildings which must be improved if we are to meet our net zero targets. Specifiers and installers need expert guidance if project energy design standards are to be achieved in practice. Our Thermal Solutions service and dedicated project managers can assist from the concept stages through to final delivery. Although the fitting of helping hand brackets represents a point loss thermal bridge within the continuity of the insulation, having accurate thermal modelling of different components and details, including for higher performing stainless-steel brackets and the essential thermal breaks to separate them from the main structure, helps to minimise the potential for problems relating to SAP or possibly during the working life of the building."
While the SFS bracketry is designed for speed and ease of installation, as well as to accommodate normal variations in the construction tolerances of the masonry or metal framed structure, the systems within the NVELOPE Thermal Solutions range also offer a choice of performance points and the NVS+Thermal system is certified under the Passivhaus component standard.
The NVELOPE VB and HB ranges are produced in aluminium. (NV + Thermal & HB + Thermal are also compatible with SFS Thermal Pad) Then the NVELOPE NVS and NVS+ ranges offer the far lower thermal transmittance characteristics of 316 Stainless Steel, with a non-compressible thermal pad included to achieve the optimum U-values.
---
For further information, call 0330 0555888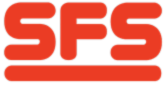 ---
https://mmcmag.co.uk/wp-content/uploads/2023/10/sfs.jpg
320
800
Lyn
https://mmcmag.co.uk/wp-content/uploads/2021/11/MMC-ONLINE-LOGO4-small-300x62.png
Lyn
2023-10-27 14:12:03
2023-10-27 14:16:02
SFS rainscreen subframe systems – more than just a helping hand