ThermoSphere has launched an innovative electric underfloor heating cable that looks set to transform underfloor heating installation.
The ThermoSphere Membrane Heating Cable is the first, and only, underfloor heating cable to use TwistedTwin construction, and in-line hot-to-cold joint technology.
This is great news for installers as The unique construction removes the need to cut the membrane, insulation and flooring to install, dramatically simplifying the installation process. What's more, the likelihood of cable failure due to mistakes at the joint is virtually eliminated. So, there's far less risk of spoiling a tiled floor to fix a damaged cable.
ThermoSphere is a leading British-based electric heating manufacturer that has been using its technical expertise to drive innovation in electric heating for over 25 years. In its Membrane Heating Cable ThermoSphere has created a product that incorporates hot-to-cold joint connections in the primary manufacturing process. The result is invisible joints and a cable that is uniform in thickness from end-to-end. This removes the installer's headache of making cavities to accommodate cold tail joints that are three times larger than in-line joints and can be a common point of failure.
For kitchen and bathroom installers working with tile and stone flooring, benefits include:
A simpler, one-step cable installation process to save time and effort.
No tools are required, installers only need to thumb-press the cable into place.
Eliminates the risk of damaging cables during installation as the unique cable construction removes the need to cut the membrane, insulation and flooring.
No leaks or costly repairs as the waterproofing layer of the decoupling membrane remains intact.
Faster delivery of quality workmanship through the automatically flush finish ready for tiling.
Compatibility with all membranes on the market, so installers can rely on the membrane that they are familiar with.
---
For more information on cable specifications, pricing and to order
   ThermoSphere's new Membrane Heating Cable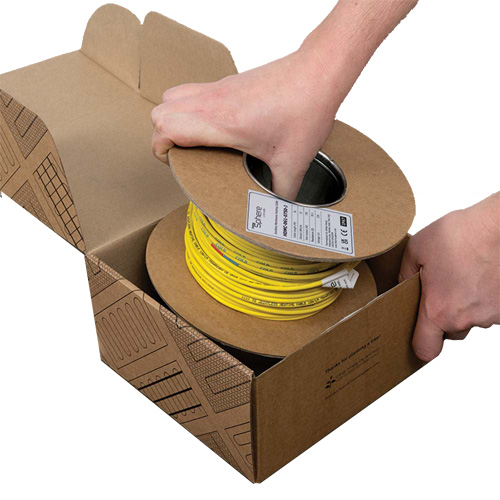 ---
https://mmcmag.co.uk/wp-content/uploads/2023/07/thermosphere1.jpg
320
800
Lyn
https://mmcmag.co.uk/wp-content/uploads/2021/11/MMC-ONLINE-LOGO4-small-300x62.png
Lyn
2023-08-01 07:43:54
2023-08-01 07:44:06
Transforming Underfloor Heating Cable Installation