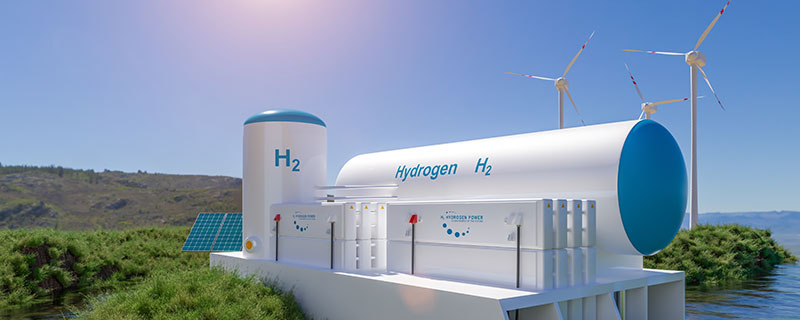 Booming hydrogen market heralds water technology opportunities
Global market could grow to be worth up to US$12 trillion
Opportunities for water technology suppliers
Particular focus expected on green hydrogen projects
The hydrogen economy is at the start of a period of growth, with the size of the global market predicted to be as much as US$12 trillion by 2050, according to the latest research.
As part of global decarbonisation efforts, hydrogen is expected to emerge as an alternative fuel. Given water is the main feedstock for hydrogen production, the boom in the hydrogen market presents a range of opportunities for water and wastewater businesses, a report from BlueTech Research has found.
Particular growth is expected in terms of the number of green hydrogen projects, those where hydrogen is produced by water electrolysis powered by renewable energy. The size of plants is also expected to scale significantly in coming years.
The EU anticipates investment of up to €470 billion (US$557B) into hydrogen production and infrastructure by 2050, with annual capital expenditure of US$200 billion. In the period 2020-2030, the EU itself is expected to invest between €24-42 billion (US$29-50B) in electrolysers and €220-340B (US$260-400B) in scaling-up production and directly connecting 80-120GW of solar and wind energy capacity to the electrolysers.
However, the report notes that while there is a global agenda to push for green hydrogen, there are concerns about the amount of water and renewable energy needed.
Report author Kim Wu, a research analyst at BlueTech Research explains: "Water demand could be a concern for the large number of green hydrogen projects being planned, particularly for water utilities and councils, or in water-stressed areas as some hydrogen projects might expect to use tap water supplied by local utilities.
"Interestingly, water utilities have a unique role to play in the hydrogen economy. There are different pathways that water utilities can produce hydrogen at their wastewater facilities and benefit from implementing those processes." 
Conventionally, hydrogen has been produced via steam methane reforming (SMR) using natural gas as the feedstock. To date, 90% of hydrogen from methane or light hydrocarbons is produced from SMR and the hydrogen produced is mostly used as a chemical feedstock.
Wu said: "With companies and governments leading and actively pushing towards net zero carbon emissions, there is an ongoing shift in which hydrogen is now being considered as the clean energy carrier in addition to a chemical feedstock."
Green hydrogen projects also rely on the availability of, and investment in, renewable energy infrastructure. Suitable hydrogen storage and transport facilities will also be needed which amount to significant investment costs, the report suggests.
BlueTech Research chief executive and founder Paul O'Callaghan summed up the findings of the report: "After years of research and development, anticipation and slow market growth, the hydrogen economy is beginning to take off, fuelled by the pressing global agenda to decarbonise.
"Our research highlights different opportunities for water and wastewater business in the growing hydrogen technological and economic landscape. A particular focus will be on green in green hydrogen production, in which hydrogen is produced by renewable energy through electrolysis."
The full report Water and the Hydrogen Economy is available to BlueTech Research clients.  To find out more visit www.bluetechresearch.com 
---
Today Construction Europe reported Vinci and partners will launch a huge hydrogen initiative:
French construction giant to help grow €1.5bn fund for clean hydrogen infrastructure solutions
Construction and concessions giant Vinci, along with two other Paris-headquartered companies – gas technology firm Air Liquide and energy firm TotalEnergies – has launched a huge investment fund, dedicated to the development of clean hydrogen infrastructure solutions.
With major businesses in Europe, the Americas and Asia participating, the alliance says it plans to build a fund totalling €1.5 billion, which will be invested across the value chain of renewable and low carbon hydrogen.
Companies named by Vinci as either on board or soon to be include Plug Power, Chart Industries, Baker Hughes, Lotte Chemical, Axa, Groupe ADP, Ballard, EDF, and Schaeffler.
Leadership in energy transition
Vinci reports that €800 million has already been raised. With the fund managed by Hy241, a joint-venture partnership between Ardian and FiveT Hydrogen, the group will soon move to the selection of hydrogen projects in which to invest.
The company said it expects the fund to contribute to projects with a total value of approximately €15 billion.
Vinci's chairman and CEO, Xavier Huillard, said, "Vinci is taking concrete action to support the development of clean energy by mobilising all its divisions in concessions, construction and energy, with the aim of actively combating climate change and decarbonising mobility in particular.

"By launching this investment fund today, hand in hand with other major industrial leaders, we keep moving forward to make green hydrogen a strong lever in achieving our objectives."

Benoît Potier, chairman and CEO of Air Liquide, said, "Hydrogen has become a central element of the energy transition. The time to act is now, not only as companies on a stand-alone basis, but by joining forces with states, other industrial groups and the financial community."

Patrick Pouyanné, chairman and CEO of TotalEnergies, said, "We are convinced that a collective effort is needed to kick-start the hydrogen sector and take it to scale. We are…proud to launch and invest in the clean hydrogen infrastructure fund, which will also give us privileged insights in the sector".
https://mmcmag.co.uk/wp-content/uploads/2021/10/MMC-06.10.21.jpg
320
800
Lyn
https://mmcmag.co.uk/wp-content/uploads/2021/11/MMC-ONLINE-LOGO4-small-300x62.png
Lyn
2021-10-06 08:19:27
2021-10-06 08:19:27
The Booming Hydrogen Market