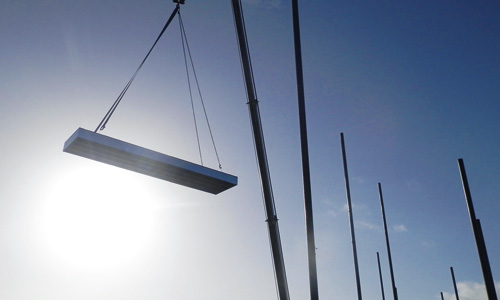 As the saying goes 'what a difference a year makes', and nowhere could that be more relevant than here at Frameclad. It's been a very busy year since Offsite 2018 with new machinery, new premises and staff all arriving to make Frameclad a leading supply partner in the off-site industry.
Frameclad design, manufacture and supply steel frame components, frames and structures for the construction industry. Operating from one end of the market where clients require stock lengths and components right the way up to the multi storey, pre-designed, fully engineered and assembled panel market. Pre-fabricated panels can also be pre-boarded with an external sheathing board etc. prior to despatch to site.
Sections are rolled from galvanised coil into the required profiles that are then either delivered to site in their plain component state or during the rolling process undergo further engineering processes with dimples, fixing holes, service holes etc incorporated to form framed panel systems. All of these options can be viewed at our website – www.frameclad.com .
Error, group does not exist! Check your syntax! (ID: 2)
From humble beginnings, successfully trading materials as a specialised merchant, Mark Munns (founder) has grown the business through various phases of development always adding to the management team strategically to ensure Frameclad is well placed to continue to provide excellent products and services through a time of growth. After initial forays into the world of production involved manufacturing component materials, the company soon moved into making complex flat pack frame products. Evolving to a point now where state of the art equipment, new production premises and a highly trained and motivated staff produce fully formed, assembled and boarded panels and in some cases insulated products are incorporated. These products and systems are offering a real alternative to traditional methods of construction and provide amazing benefits in cost, time and accuracy. Frameclad have emerged as a leader in quality and service to the construction industry. Honest and secure advice provided from a platform of experience backed by a collaborative approach at all stages of the design, manufacture and installation process make Frameclad the obvious choice as a partner.
Frameclad clients enjoy a unique experience of being engaged at all points through the process from ideas and design through to sign off of design, manufacture and delivery.
Following on from the sustained growth in 2018/19, which saw an additional 24k square foot factory and 2 new state of the art roll-forming machines arriving, 2019/2020 is continuing the trend with further machinery arriving and a further 22k square foot of space acquired which will be on line by the end of November 2019.
Moving forward, Frameclad will continue to invest and strive to be the best option for quality, professional services and products within the steel frame market. Always looking for betterment and differentiation Frameclad are always looking for partners who share common goals and aspirations.
If you have a project that you feel may benefit from the involvement of the Frameclad team please visit them at the show or alternatively they would be delighted to hear from you either by email or telephone – enquiries@frameclad.com
01384 401114.
https://mmcmag.co.uk/wp-content/uploads/2019/11/FRAMECLAD.jpg
300
500
Lyn
https://mmcmag.co.uk/wp-content/uploads/2021/11/MMC-ONLINE-LOGO4-small-300x62.png
Lyn
2019-11-04 15:18:36
2019-11-04 15:19:07
2019 the year of the 'NEW' at Frameclad