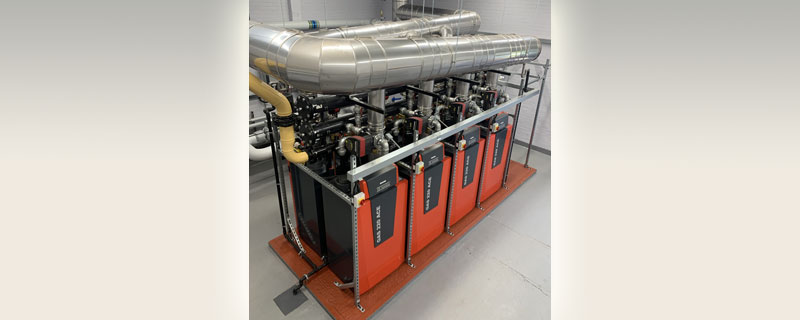 Bespoke-designed, prefabricated heating equipment provides low disruption solution for high-performance heat at social housing estate
Wakefield and District Housing (WDH) has improved the reliability and efficiency of the heating and hot water service at its Smirthwaite housing estate with the installation of eight new Remeha Gas 220 Ace boilers using a Remeha prefabricated cascade arrangement.
One the UK's largest social housing providers, WDH is committed to excellence and performance. Heating and hot water are critical services for residents, so ensuring that the system operates reliably is a top priority for the WDH technical services team. In line with its wider sustainability commitments, WDH also works to mitigate rising energy costs wherever possible for its tenants.
The Smirthwaite Estate in Normanton consists of 192 two-bedroom maisonettes, 70 three-bedroom houses and 14 one-bedroom bungalows. Previously, three 25-year-old boilers had served two district heating circuits which in turn feed heat interface units (HIUs) within the individual dwellings to provide heating and hot water services.
When the old boilers came to the end of their serviceable life, the WDH technical services team installed temporary plant to maintain the service while they evaluated the feasible options.
A major concern was to avoid disruption wherever possible for the residents. This included keeping downtime to a minimum and avoiding the need to enter properties.
"We were keen to explore the use of renewable technologies, either to replace or assist new gas-fired boilers," said Stephen Dumbrell, WDH's Assistant Mechanical Services Manager. "Given the nature of the existing heating system at Smirthwaite and therefore the possible limitations, we asked Rob Wilson at Building Services Solutions to carry out an appraisal of the low carbon options."
The findings of the report ruled out air source heat pumps, ground source heat pumps and biomass as practical alternatives at the estate, as consultant Rob Wilson explained.
"For a number of reasons – including space constraints, insufficient power supply, noise, the existing distribution system and operating temperatures – these technologies had to be disregarded as viable options," he said.
His recommendation was to install modular, energy-efficient replacement boilers with a Plate Heat Exchanger to deliver long-term improved heating reliability while reducing energy consumption and carbon and NOx emissions.
"This was the most practical, cost-effective and reliable approach to improve outcomes for residents on the Smirthwaite estate," Rob continued. "It met all of WDH's requirements, providing a more energy-efficient heating and hot water service, minimising disruption to residents, and enabling easy future maintenance by their inhouse technical team."
Rob specified installing eight Remeha Gas 220 Ace 300 in a back-to-back arrangement using a Remeha off-site fabricated cascade system with a Plate Heat Exchanger (PHEX). Remeha is part of Baxi Commercial Solutions.
"I've used the Remeha pre-assembled rig systems before," Rob commented. "The products, design and customer service from the Baxi Commercial Solutions team are all excellent. WDH's technical services team are also familiar with Remeha products and have a great relationship with the sales and technical support teams, so it was a logical selection."
Working with Rob and WDH, the Baxi Commercial Solutions team prepared CAD and 3D drawings of the boiler cascade arrangement bespoke to the design parameters and integrated specially sized pump sets and a PHEX into the design. The PHEX was recommended to separate the new boilers from the existing district heating distribution system and protect them from any debris, corrosion or poor water quality.
In addition to the boilers, pumps and PHEX, the packaged solution included a pressurisation unit, a dosing pot and an expansion vessel.
The detailed CAD and 3D drawings provided early visualisation of the layout. Through subsequent collaborative discussions with the group, revisions were considered and implemented to reach a final design that met all the site constraints and requirements. Production then took place in a factory environment, with comprehensive end-of-line testing.
The equipment was delivered to site in clearly numbered pallets with a reference drawing for guidance. The WDH technical services team then bolted the boilers together and connected them to the existing system.
"It is very unusual for an inhouse team to be able to carry out a project of this scale," said Stephen. "One of the many benefits of using the rig was that it provided a good structure for our engineers," he explained. "It avoided the need to size all the individual components and, as no welding was required, saved a significant amount of installation time."
The switch to the new boilers took around four hours, allowing WDH to achieve their key goal for minimal downtime and disruption to residents.
"The whole process was seamless," Stephen added. "It says a lot that the residents weren't even aware that we were refurbishing the heating system!"
Jason Male was one of the WDH engineers on the project. So how did he find working on the installation?
"This was a great project to be involved with and everything ran very smoothly," Jason said. "The rig is outstanding and looks really impressive," he continued. "The support we received from the Baxi team throughout was top notch. They were brilliant to work with and really helpful – we couldn't have asked for better!"
On both an operational and aesthetic level, the outcome is ticking all the boxes.
"The plant room has been completely transformed," Stephen continued. "We now have a very well organised plant room that makes the best use of space and provides good accessibility to all the boilers for future maintenance to optimise efficiency and reliability."
Commissioning was carried out by Baxi Commercial Services engineers who safety tested the installation in conjunction with the WDH site team and control specialist.
Baxi Commercial Services will also provide WDH's technical services team with onsite training on the new boilers to ensure ongoing high performance.
WDH are anticipating a considerable reduction in energy consumption moving forward from the more energy-efficient equipment and design. There is also the expectation of welcome operational cost savings from the more efficient system with the removal of expensive breakdown callouts.
"It's a great system and a fantastic achievement. We're delighted with the service we have received throughout from Baxi Commercial Solutions – and the results," Stephen concluded.
Martyn Shaw, Executive Director of Technical Services at WDH, said: "I am extremely proud of what we have achieved. Our teams have gone over and above to overcome a complex issue, showing dedication, innovation and due diligence to get the job done well for our customers.
"The simple fact that the residents at Smirthwaite saw little or no disruption during the transition to the new system, is a testament to the in-house talent we have at WDH. The system will help us to achieve our aim of creating better, more sustainable places to live."
The fully-modulating Remeha Gas 220 Ace series is available in 160 kW, 200 kW, 250 kW and 300 kW outputs with cascade options. The Gas 220 Ace delivers higher-than-average gross efficiencies of up to 98% with low NOx emissions. It is supplied with onboard time and temperature controls, with direct connection to a Building Management System provided as standard to maximise heating efficiency.
CLICK HERE FOR FURTHER INFORMATION FROM REMEHA
https://mmcmag.co.uk/wp-content/uploads/2022/07/REMEHA.jpg
320
800
Lyn
https://mmcmag.co.uk/wp-content/uploads/2021/11/MMC-ONLINE-LOGO4-small-300x62.png
Lyn
2022-07-20 07:31:47
2022-07-20 07:31:47
High Performance Heat with Minimum Disruption