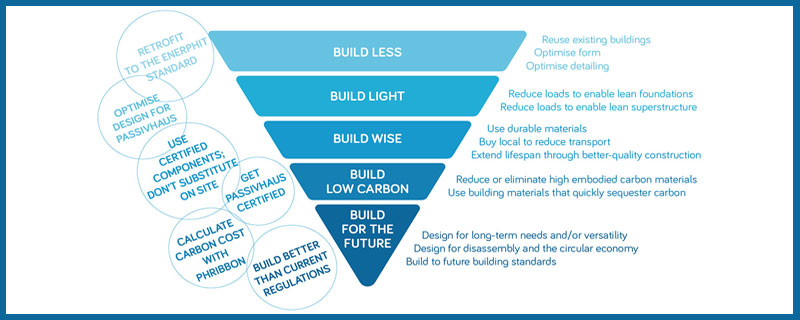 Do thicker insulated walls, triple glazed windows, & MVHR ventilation systems tip the scales unfavourably for Passivhaus when it comes to embodied carbon?

The UK Passivhaus Trust (PHT) has published resources exploring the role of Passivhaus design in reducing whole life carbon emissions from buildings. The resources include a freely available position paper & primer, alongside an on-demand webinar, and draw on recent research that counters the argument that designing to decrease operational carbon emissions increases embodied carbon emissions due to additional materials.
Access the Passivhaus & embodied carbon resources here: https://bit.ly/PHTEmbodiedCarbon
SUMMARY OF KEY FINDINGS

Reduced overall whole life carbon

A certified Passivhaus building can have less embodied carbon, and will have a significantly smaller whole life carbon footprint, when compared like-for-like with one built to building regulations.
The Passivhaus Trust undertook modelling of the whole life carbon footprint (measured over 60 years) for a house built to comply with building regulations and the same house upgraded to meet the Passivhaus standard.
The modelling shows that, even with additional building elements (an MVHR ventilation system, high performance triple glazed windows, more insulation), the Passivhaus house had a lower initial embodied carbon and less operational carbon over its lifetime, leading to a smaller whole life carbon footprint.
This was found to be as a result of the initial carbon footprint being smaller due to the reduced heating system required for a Passivhaus, as well as the carbon emissions accumulating more slowly over time because of the lower space heating demand.
The research also found that triple glazing does not necessarily result in higher embodied carbon.  Over the lifespan of a window the frame material choice makes as much, if not more, difference to the overall emissions, than the glazing choice.

Embodied carbon benefits of Passivhaus
The research identified some ways that Passivhaus design helps reduce embodied carbon of buildings:
Passivhaus design optimisation results in less material use, through better form factor and simplified details.
Passivhaus buildings tended to include products with longer lifespans , through the use of certified components and  quality assurance certification.
Passivhaus certification means a better quality build and so offering a longer fabric lifespan
Building to the Passivhaus standard means no need for future retrofit to meet more demanding standards later on.

Retrofit first
There are substantial savings made in retrofitting existing buildings, compared with the high embodied energy costs of demolition and rebuilding. As an example, St. Sophia's Primary School in East Ayrshire revealed that 40% embodied carbon savings were made just by undertaking an EnerPHit retrofit rather than rebuilding the school.Passivhaus-compatible carbon counting tools

Carbon counting tools such as the PHribbon plug-in for PHPP are making it easier for Passivhaus designers to look at the embodied carbon impact of design and material choices,  Building on the RICS Professional Statement on Whole Life Carbon, and incorporating a library of over 400 EPDs, PHribbon makes whole life carbon calculations quick to perform using the material quantities already embedded in a PHPP assessment.
CONCLUSION
The research concludes that the relationship between embodied and operational carbon is rapidly changing, as energy supplies decarbonise worldwide. The embodied carbon of construction materials is locked into a building, based on the energy supply conditions now, whereas operational carbon changes as energy supplies change which, at the moment, are steadily decarbonising. However, continuing to reduce energy demand is still important as it reduces peak loads which will reduce the level of future zero carbon energy infrastructure and storage needed.
Sarah Lewis, Research & Policy Director at the Passivhaus Trust concluded:
"Emerging research shows that designing to the Passivhaus standard, be that for new or existing buildings, does not need to result in increased embodied carbon and that choice of materials, rationalisation of build form and reduction of building services play a significant part in reducing whole-life carbon.Passivhaus buildings are optimised for net zero, providing the best route to minimise whole life carbon. Outstanding levels of building performance minimise operational carbon, while the Passivhaus design methodology encourages optimisation of embodied carbon through efficient use of materials and radically reducing the heat and cooling plant.

Reducing operational and embodied carbon is not an either/ or choice. We must aim to tackle both simultaneously."
The free to download PHT primer & position paper, along with a host of additional resources are available on the Passivhaus Trust website. Access the Passivhaus & embodied carbon resources here: https://bit.ly/PHTEmbodiedCarbon
https://mmcmag.co.uk/wp-content/uploads/2022/07/mmc21-18.07.22.jpg
320
800
Lyn
https://mmcmag.co.uk/wp-content/uploads/2021/11/MMC-ONLINE-LOGO4-small-300x62.png
Lyn
2022-07-18 07:06:33
2022-07-18 07:06:33
PASSIVHAUS & EMBODIED CARBON