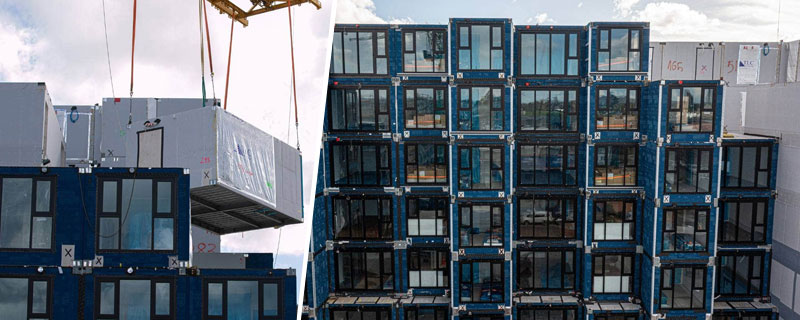 In a matter of months, a six-storey apartment block has sprung up in Auckland's Northcote thanks to a new modular system being piloted by housing agency Kāinga Ora.
The apartments are each made of between two and three pods that are carefully craned into place. It's precision work, with a man wearing hefty safety gloves helping to guide and click them into place.
The pods or modules are manufactured in Vietnam by TLC Modular and then shipped to Northport in Whangārei before being trucked to the North Shore.
TLC Modular general manager Jeremy Wagon said the company aimed to crane into place between eight and 12 modules each day, and it took two to three modules to make an apartment.
He explained that TLC used a 530-tonne crane and a bespoke module lift consisting of a frame that has cables and clips attached to modules, which weight between 10–22 tonnes.
"It's like Lego," he said.
To join the modules up, the gap between them is filled with sealant. The interconnecting plug-and-play wires are hidden in the ceiling.
Wagon estimated it would take about six weeks to install the first 79 apartments, a month to do the remaining fit-out, and another four to six months to finish site works.
He said time savings were found in modular construction because different phases could be worked on concurrently.
"While someone is working on the concrete slab foundations, someone else is working on modules at the same time."
The first apartments will be finished by October and the rest by January next year. They've been marketed for between $550,000 and $935,000 and range in size from 70.8 m² to 127.8 m².
"We use a modular method of construction, but we're saying that if you walk into the finished product, it won't look like a lego brick project," Wagon said.
The apartments contain some futuristic features. The skirting boards, which look like any other white wooden trimming, are ambient heaters that warm up the room.
The development on the corner of Lake Road and Fraser Avenue stretches across two sites, and consists of 183 apartments made up of 525 modules.
Each home comes with its own app. The power points connect to wi-fi and can be remotely switched on and off.
The classic hot water cylinder is gone, in favour of an "instant" system with a heated element that the water runs through.
New homeowners won't be picking up the keys. The doors have number pads and coded locks, although there will be swipe fobs.
Wagon said the theoretical limit of how high modular buildings could go was down to the strength of the earth it was built on, and regulations.
In Australia construction had stretched 16 floors high, and in New Zealand TLC was already looking into building a 13-floor hotel in Māngere for Holiday Inn.
Kāinga Ora's development director Rohan Bush​ said the housing agency had been using "off-site manufacturing" for several years, but the new building was a pilot project for "volumetric" modules.
"We're facilitating the arrival of this new technology. Having TLC working here with local designers and builders is building up the local expertise," she said.
While the apartments in this development are either for KiwiBuild or the private market, Bush said Kāinga Ora had a target of building 500 to 600 public houses using off-site manufacturing.
"We need to get people into houses faster. If it shaves off months then it's a huge win."
Source: Stuff
https://mmcmag.co.uk/wp-content/uploads/2023/04/MMC-25.04.23.jpg
320
800
Lyn
https://mmcmag.co.uk/wp-content/uploads/2021/11/MMC-ONLINE-LOGO4-small-300x62.png
Lyn
2023-04-25 09:21:17
2023-04-25 09:21:17
NEW ZEALAND: 6 WEEK MODULAR HOMES