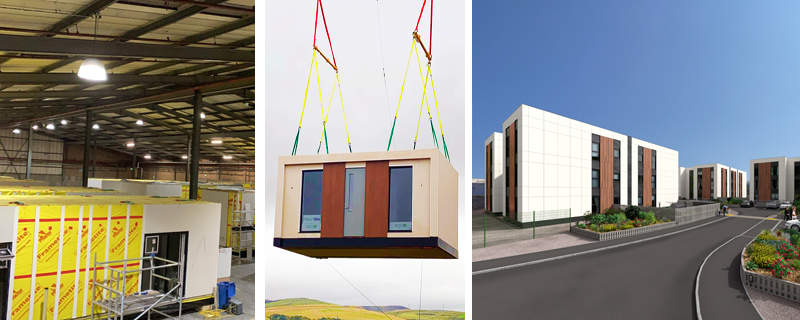 A modular build system that delivers to the highest standards of Passivhaus every time: Beattie Passive's goal is nothing less than to revolutionise the UK Construction Industry. 
Becoming increasingly concerned with the widening performance gap between what was designed and what was built in the construction industry, Ron Beattie founded Beattie Passive with the aim of developing a simple build system; one that would lift the standards of building holistically across a range of elements, and consistently deliver high performance, high quality homes, delivering Passivhaus – the gold standard of energy efficient design – as standard. They have since gone on to deliver over 400 homes in the UK, ranging from one-bedroom apartments to complex grand design farmhouses and everything in between, all meeting the Passivhaus standard.
One of the key differentiators of the Beattie Passive system is not only the high energy efficiency and quality delivered as standard, but its flexibility in terms of buildability. The same patented, high performance system is supplied through multiple delivery methods from onsite stick build, to factory built panels, to fully modular solutions. This enables the organisation to easily respond to clients' specific requirements, providing complete flexibility on design as well as being able to effectively respond to varying site and access conditions.
Responding to the growing demand for offsite build solutions, Beattie Passive evolved and developed their offerings, delivering modular Structural Thermal Envelopes for multiple terraces and detached homes at the Graven Hill Custom Build development in Bicester. This led to the organisation developing its innovative system into a fully modular home solution that is completed to turnkey in their factory in Norfolk. They are now delivering modular housing for multiple clients across the UK.
Since the beginning of the Coronavirus Pandemic, Beattie Passive has seen a considerable increase in demand for their fully modular solution, in particular their Haus4 range. In response to the developing homelessness crisis in the UK, Beattie Passive developed a flexible and affordable yet high quality solution to provide relocatable housing for the nations' homeless. The product ranges from a Haus4one – a fully contained, single person home through to the Haus4Studio blocks and Haus4two and Haus4three. These modular units can be manufactured very quickly (in as little as six weeks), are all built to Passivhaus standards, providing a warm, comfortable environment to live in, and critically are easily relocatable, making them an ideal solution for temporary housing to address immediate housing requirements, and then can be relocated as needs change.
Beattie Passive have expanded on this concept to innovate a variety of flexible, modular housing offerings, from studios to 1-, 2- and 3-bedroom apartments in 3 storey blocks, to bungalows and detached houses. They have also launched flexible additional building solutions, for example Haus4Care providing additional care for people coming out of hospital, and student / learning accommodation. This demonstrates the true flexibility of the system and the organisations ability to work innovatively with their clients to meet their exacting and differing requirements.
Having recently completed a successful expansion into much larger premises, Beattie Passive have been able to greatly increase capacity and ramp up production and take on larger orders, delivering over 150 units since setting up the new factory in August 2020. The largest of these projects in progress so far is a new modular development of 48 temporary 1, 2- and 3-bedroom apartments and office space for Cardiff Council. The apartment blocks will be certified to Passivhaus Plus standard, all delivering the high quality of Beattie Passive and will be fully demountable and reusable to importantly enable the Council to relocate the units as required.
As the need for good quality housing continues to rise in the UK, homelessness becomes an ever increasing challenge, and climate change continues to be a problem, the need for flexible, environmentally friendly housing is demonstrably clear. Beattie Passive are always on the lookout for partners with a shared vision, and whom they can work with to tackle these issues and together revolutionise construction in the UK for the better.
https://mmcmag.co.uk/wp-content/uploads/2021/04/BEATTIES.png
320
800
Lyn
https://mmcmag.co.uk/wp-content/uploads/2021/11/MMC-ONLINE-LOGO4-small-300x62.png
Lyn
2021-04-30 13:27:35
2021-04-30 13:27:35
Passivhaus Modular at Scale