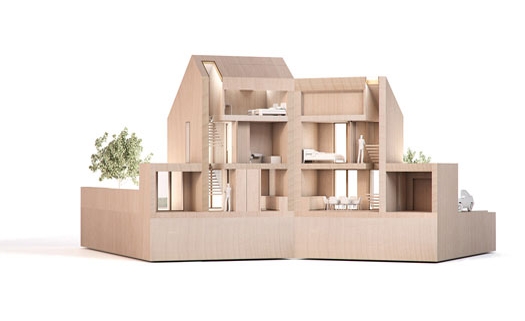 In 2016 Taylor Wimpey launched the Project 2020 Design competition in partnership with the Royal Institute of British Architects (RIBA).
Making a mark
In a constantly evolving world that is becoming more and more technology and innovation driven, we, as a sustainable company, have a responsibility to look at the future trends and advances in our industry so that we can future-proof our Company. That's exactly what 'Project 2020' is all about.
'Project 2020 and its competition is a very visible sign of how we continue to move towards a customer centred business. It's about building homes to match how our customers want to live, with construction methods and materials that will deliver the quality they expect.'
Nick Rogers, UK Head of Design andTechnical (Taylor Wimpey)
Bringing big ideas to life
In 2016 Taylor Wimpey launched the Project 2020 Design competition in partnership with the Royal Institute of British Architects (RIBA). The two-stage competition invited architects from across the globe to design new house type typologies with the brief of being innovative, pragmatic, cost effective, capable of high-quality mass production and would appeal to future customers and their changing needs.
With over 100 entries from 14 countries, it was the 'Infinite House' designed by Open Studio Architects, based in London, that impressed the judging panel the most.
'The Project 2020 Infinite Houses offer significantly enhanced daylight levels, flexibility of internal planning, and diverse construction techniques, enabling Taylor Wimpey to offer high quality, responsive and adaptable homes, which we believe can fundamentally change both what houses can be, and how they are delivered.'
Jennifer Beningfield, Founding Principal Director (Opendstudio Architects)
So, what exactly is the Infinite House?
There are four types of the Infinite House design, each of which aims to promote adaptability and customisation that helps improve flexible living. These unique house types have the potential to accommodate multiple configurations to suit different demographics, and their spaces can be adapted to offer separate living areas or open plan living, enabling its inhabitants to customise their homes to their specific living requirements.
All four house types have been designed to offer easy expansion in the roof, with windows strategically positioned to increase the levels of daylight and sunlight, whilst the exterior of the buildings offer the flexibility to be adjusted depending on the changing densities or cladding materials required. And what's more, the homes designed based on the Infinite House concept are expected to naturally fit in anywhere, from rural locations to urban areas, thanks to the careful selection of materials, giving extra flexibility during the planning process. Another proposed benefit of the Infinite House type is its ability to adopt the all-important fabric-first approach, off-site and traditional construction methodologies.
Building homes for the future
In total, there will be nine prototype units built across TW businesses in West Scotland, Manchester and Oxford, where the regional teams will be reviewing different build methodologies and new technologies, as well as suitable materials, to meet the innovative design, functional and technical requirements of the Infinite House concept.
Each region will be trialling a different method of construction to explore flexibility in build methodology and evaluate if the prototypes are equally buildable in varying construction methods.
The most unfamiliar method of construction which has not previously been used at Taylor Wimpey, will be Cross Laminated Timber (CLT). This will be implemented by our Oxford region, across the 5 prototypes they are building at Great Western Park, Didcot.
Scotland will be implementing two different versions of Timber Frame on each of the two prototypes being built at Dargavel, Bishopton; One will be in traditional open panel timber frame and, the other will be a more complex advanced closed panel timber frame which will also seek to achieve Gold Standard accreditation and promote innovation. Manchester will be using familiar traditional masonry build for the two prototypes being built at Arnfield Woods.
Today and beyond
Although only one element of the more widely scoped Project 2020, the findings and lessons learnt from building the prototypes will be invaluable in informing Taylor Wimpey's strategy for the future, ensuring the homes that are built for the next generation of customers meet and exceed their expectations and suit their changing lifestyles.
SOURCE: Taylor Wimpey
https://mmcmag.co.uk/wp-content/uploads/2019/05/Infinite-7_.jpg
350
525
Lyn
https://mmcmag.co.uk/wp-content/uploads/2021/11/MMC-ONLINE-LOGO4-small-300x62.png
Lyn
2019-05-16 18:45:03
2019-06-03 07:42:03
PROJECT 2020 – The Infinite House