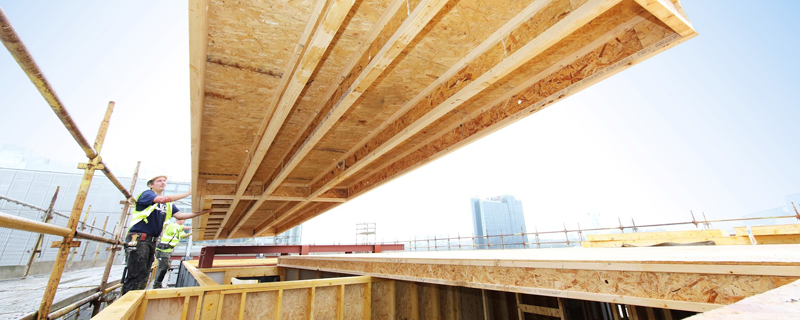 Despite government pledges and increased investment in the housing sector to tackle the housing crisis, the ongoing effects of the pandemic is expected to make matters even more challenging for the construction industry.
As well as the need to build faster, there is a demand to build better. As people are spending more time at home, they are looking to make their homes more suited to their needs. Last year, research conducted by the Royal Institute of British Architects (RIBA) revealed that UK homeowners are increasingly demanding environmentally friendly properties that better support their new ways of living. With this demand on the agenda as well, what can the construction industry do to deal with this challenge?
Timber frame buildings and Modern Methods of Construction (MMC)
One way forward is timber construction. There are numerous benefits to building with timber. In addition to being produced naturally, it is a sustainable and renewable building material, and is usually lighter than other building materials, such as steel or masonry. It is also easier to install and offers a quicker build time.
Timber frames can be modulated and pre-cut, and because of this are ideal for offsite construction—all systems of construction now thought of as coming under the umbrella of MMC. The process of modular construction allows a building to be constructed in "modules" offsite, in half the time it would usually take on site, with much fewer workers needed on site—important in the current climate. Furthermore, modular construction reduces site disruption, vehicle traffic and improves overall safety and security onsite.*
Constructing timber frame buildings offsite often provides a project the ability to boast greater energy efficiency and lower embodied carbon, which makes it a popular choice for contractors aiming to build more sustainable houses that cater to the demands of modern day property buyers and renters.
Working with MEDITE SMARTPLY
MEDITE SMARTPLY has recently developed three robust products ideal for structural timber applications within MMC, from roofing to wall sheathing, both on and offsite. These are SMARTPLY ULTIMA OSB/4, SMARTPLY MAX OSB/3 and SMARTPLY MAX FR B OSB/3, which is flame retardant.
These lightweight and structurally sound panels can be made longer and wider, which is ideal for covering extensive meterage in shorter spaces of time. All three boards are available in large panels of up to 2.8m wide by 7.5m long, using ContiRoll® technology—the continuous pressing of wood strands. As a result, roofing projects can progress faster, needing fewer workers to produce better results.
The panels are also sustainably manufactured using a no added formaldehyde resin. This makes them safer for contractors to work with, as well as for creating healthier environments for future building occupants.
SMARTPLY ULTIMA is an extremely high-performance engineered wood panel, suitable for the most demanding structural applications. It is a cost-effective alternative in humid and high-load structural applications when compared to a similar performing exterior structural plywood. SMARTPLY ULTIMA can also be manufactured up to a maximum thickness of 40mm for super heavy-duty requirements.
As a strong, versatile board, SMARTPLY MAX is also moisture resistant, and suitable for structural use in humid conditions (service Class 1 and 2). It's had a long history of successful use in roofing, flooring, hoarding and wall sheathing applications, within timber construction.
SMARTPLY MAX FR B has been specially developed to provide greater fire performance and deliver greater peace of mind to those specifying for offsite construction. It is the first Euroclass B OSB/3 panel manufactured in the UK and Ireland to feature wood flakes treated with flame retardant solution before pressing.  Vitally, SMARTPLY MAX FR B meets the requirements of European Standards EN 300 and EN 13986, and the European reaction to fire classes B-s2,d0 and Bfl-s1. It also complies with the Structural Timber Association's (STA) FR Build performance requirements in accordance with their "Design Guide to Separating Distances During Construction" for timber frame buildings. The panel is referred to as SMARTPLY MAX FR/FR BUILD in this instance.
In these challenging times, timber can offer a robust and sustainable solution in tackling housing shortages. Let's do the right thing and build better for a brighter future with MEDITE SMARTPLY.
CLICK HERE to find out more about these products and how they can help contractors with MMC in mind
https://mmcmag.co.uk/wp-content/uploads/2021/02/MEDITE.png
320
800
Lyn
https://mmcmag.co.uk/wp-content/uploads/2021/11/MMC-ONLINE-LOGO4-small-300x62.png
Lyn
2021-02-12 07:27:12
2021-02-12 07:27:12
Timber solutions for MMC with MEDITE SMARTPLY