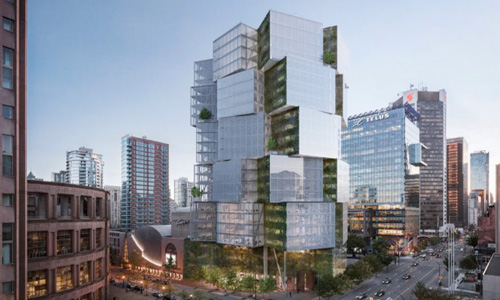 Apple's new Vancouver office looks absolutely spectacular, whether it's taking space in iconic buildings or creating one of Earth's most valuable offices, Apple sure has an eye for architecture.
Occupying two floors in a spectacular, still-under-construction development in Vancouver, BC. The 400 West Georgia building is set to open in 2020.
Apple didn't have a role in the design, which is carried out by Merrick Architecture. However, it totally looks like something Apple would have created. The 24-story building will be 367,000 square feet in total. This is divided into a series of "reflective yet transparent" stacked boxes.
It kind of looks like a collection of modular G4 Power Mac Cubes stacked on top of each other at strange angles. Each box contains four floors and has a width roughly equivalent to its height. Merrick Architecture notes that:
"The stacked boxes create natural compartments within a continuous floorplate, allowing offices to be variously partitioned while also staying close to the façade. The floors and ceilings of the cantilevering portions are glazed to visually link the garden, the offices, and the street below. The resulting diversity of spaces is complimented by the diversity of views, whose orientation is not only horizontal, but also vertical."
As noted, this is far from the first time Apple has picked out an impressive location for its new offices. In London, for example, it is currently refurbishing space in the iconic Battersea Power Station.
It's not clear from the Bloomberg report exactly what work will be carried out in the new Vancouver office. (And, given Apple's secrecy, we'll probably never know.) One thing we can say, though, is that we're certainly envious of anyone who gets to work in this amazing space!
Source: Cult of Mac
https://mmcmag.co.uk/wp-content/uploads/2019/07/apple.jpg
300
500
Lyn
https://mmcmag.co.uk/wp-content/uploads/2021/11/MMC-ONLINE-LOGO4-small-300x62.png
Lyn
2019-07-19 13:19:10
2019-07-19 13:19:10
Vancouver home to Apple's new amazing space