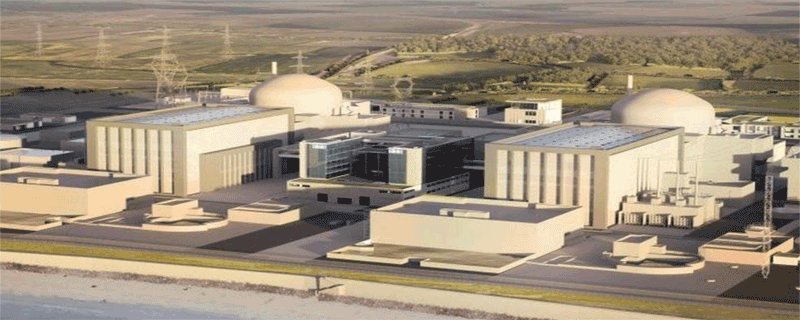 Britain Rethinks Letting China Enter Its Nuclear Power Industry
By Stanley Reed
Financing and security issues are clouding new power station projects.
A few years ago, Britain agreed to let China take an ownership stake in its newest nuclear power plants, figuring Beijing had the nuclear know-how and the construction smarts to help replace the country's aging power stations.
It was a warm moment in British-Chinese relations, a deal signed in 2015 during a carefully choreographed visit to London by President Xi Jinping of China with the British prime minister at the time, David Cameron.
Six years later, Britain is having second thoughts. Financing for a planned power station facing the North Sea, estimated at 20 billion pounds ($28 billion) and necessary to ensure a steady stream of electricity for decades, is unexpectedly in doubt. Part of the problem: attracting investors to a project one-fifth owned by China.
Mr. Xi's authoritarian ambitions and human rights record have chilled relations with Western nations, forcing a broad reconsideration of a range of economic dealings with the world's second-largest economy.
In Britain, the pushback over nuclear power echoes the concerns raised last year when Britain joined the United States in banning the Chinese telecom supplier Huawei from high-speed wireless networks on security grounds.
The 2015 nuclear agreement even calls for letting China be majority owner of a proposed plant of its own design, at a site about 50 miles from London. Although that project is going through regulatory channels, it is expected to face strong opposition from lawmakers.
"We cannot allow the technological heart of our power system to be exposed to the risk of disruption by states that do not share our values," said Tom Tugendhat, a member of the Conservative Party, led by Prime Minister Boris Johnson, and chairman of the foreign affairs committee in Parliament.
Daily business updates  The latest coverage of business, markets and the economy, sent by email each weekday. Get it sent to your inbox.
China has ambitions to be a global supplier of nuclear power plants, but Britain is not the only country reconsidering an agreement.
"Within Europe, there is an emerging pattern of nations rethinking nuclear collaboration with China," said Ted Jones, senior director at the Nuclear Energy Institute, an industry group in Washington. He pointed to recent setbacks that China's nuclear plant business has suffered in Romania, the Czech Republic and elsewhere.
Evidence of the risks involved was buried in financial results published on Thursday by Électricité de France, a French utility company that owns and operates Britain's eight operating nuclear power stations. The company is halfway through building Britain's first new station since the 1990s, at Hinkley Point in southwest England, a project one-third owned by China General Nuclear, China's state-owned nuclear company.
EDF, in its quarterly results, urged the British government to pass legislation soon enabling a new, less risky financial and regulatory arrangement before the company embarks on the North Sea project, near a fishing village called Sizewell.
British officials and EDF executives have been negotiating financing terms for the Sizewell project.Credit…Chris Ratcliffe/Bloomberg
Failure to obtain these changes, the company said, could lead it to "not to make an investment decision" — in other words, walk away from the project.
"This legislation is now really, really essential," said Simone Rossi, chief executive of EDF's British arm, in June, according to Reuters. British officials and EDF executives have been negotiating terms for financing for the Sizewell project.
EDF, which is majority owned by the French government, says it can't afford to pay the project's costs upfront and wants to reduce its 80 percent stake to a minority holding to make room for other investors.
The arrangement being considered would allow investors to obtain an immediate return on the capital they spent on the plant through surcharges on energy bills. Pension funds, university endowments and similar investors would most likely be attracted by predictable, long-term revenue streams, analysts said.
"You will find investors who are interested," said Meike Becker, a utility analyst at Bernstein, a research company.
The critical question, though, is whether the presence of China General Nuclear might give financial institutions pause, especially those from the United States.
In 2019, the company was placed on a U.S. government blacklist — which restricts American companies from doing business with it — for engaging in efforts to acquire advanced American nuclear technology for military purposes. In 2016, an American nuclear engineer was sentenced to two years in prison for helping the company develop nuclear materials.
"CGN has a particularly bad reputation in the United States," said Vincent C. Zabielski, a London-based special counsel who specializes in nuclear issues at Pillsbury, a law firm. Mr. Zabielski said that while investors might judge that CGN would bring valuable engineering skills to building the plant, the company's presence could be a turnoff for American investors "in some cases."
Much has changed since 2015, when China General Nuclear entered Britain during an elaborately choreographed visit by President Xi Jinping, a high point in Chinese-British relations.Credit…Leon Neal/Agence France-Presse — Getty Images
China General Nuclear declined to comment.
Ultimately, the government will decide the fate of Britain's nuclear program; one option said to be on the table is the British government's buying China's stake in the Sizewell project. In principle, the government wants at least one more power station after Hinkley Point to help meet its ambitious low-carbon targets. The Sizewell plant would pump out enough power for millions of homes for decades. Building a plant would also create thousands of jobs and provide billions of pounds worth of work for British suppliers.
China's global nuclear ambitions are on the line in Britain. Its plans for a nuclear plant outside London, at Bradwell-on-Sea, are going through Britain's approval process, a critical step that Beijing hoped would be a springboard to its acceptance in other international markets.
China is "making every effort it can to establish Chinese standards" in the global nuclear industry, said Mark Hibbs, a senior fellow at the Carnegie Endowment for International Peace. If China is successful in Britain, he said, it will give the country a competitive advantage in global nuclear sales for decades.
But the British government has soured on Beijing because of a host of concerns, including the crackdown on dissent in Hong Kong, a former British colony, and the harsh treatment of Uyghurs in China's Xinjiang region. Influenced by Washington, worries have also increased in London about the security risks of using Chinese technology.
Industry sources say it is now difficult to conceive of the government's approving a Chinese-designed and majority-owned plant not far from London, as envisioned for the project in Bradwell.
The situation may be different at Hinkley Point, where the Chinese company's stake is 33 percent, and at the proposed Sizewell project, where its stake is 20 percent. Overall, China General Nuclear has spent about £4 billion on the British projects. Mr. Tugendhat said he had no objection to Chinese money in these cases because it could be easily replaced.
Source: The New York Times
https://mmcmag.co.uk/wp-content/uploads/2021/08/bsc.png
320
800
Lyn
https://mmcmag.co.uk/wp-content/uploads/2021/11/MMC-ONLINE-LOGO4-small-300x62.png
Lyn
2021-08-03 09:50:26
2021-08-03 09:55:55
China and Nuclear Britain, USA questions trust