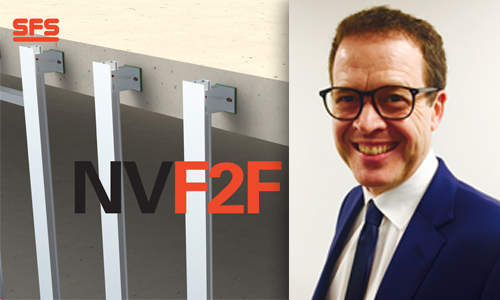 Buildings need to come together more quickly than ever. To do so without compromising integrity and quality depends on every little detail being thoroughly considered. This detail comes right down to the fasteners and fixings that hold the building envelope together, explains David Fraser, NVELOPE® Business Unit Manager at SFS UK.
Almost everywhere you look in the field of construction, there is talk of needing to build faster and more efficiently. Whether it's because there's a lack of crucial infrastructure, or simply because there's not enough labour, it's evident that we need to streamline our approach to construction.
This is clearly evidenced by the UK's housing shortage crisis. In 2018, it was estimated that England had a backlog of 3.91 million homes, meaning 340,000 new homes need to be built each year until 2031. Yet at that time, the government was only targeting building 300,000 homes annually, and any shortfall only further compounds the problems.
However, as the old saying goes, haste makes waste, and this couldn't be truer for buildings. Structures that are not planned out and correctly specified can cause waste from construction right through to building operation. For example, poor specification can lead to unnecessary servicing and maintenance, and needing to replace materials that don't meet their expected lifespan.
To ensure that we can maximise construction efficiency, while still maintaining the quality and integrity expected of multi-million-pound buildings, it all boils down to detail. This is especially the case with fasteners and fixings, the very components that hold structures and building envelopes together.
Error, group does not exist! Check your syntax! (ID: 6)
Planned to Perfection
As with many things in life, well-planned projects minimise the chance for errors to occur during construction, which can be costly to rectify further down the build chain.
Building envelopes, brackets and subframe systems need to be especially well considered. They need to withstand whatever the elements throw at them, from wind loads, to corrosive substances in the air and the substrate they are fixing back to. Meanwhile, they also need to be able to assure the deadweight of the cladding that is being installed on them.
Identifying these components correctly though is easier said than done. For architects and specifiers, trawling through datasheets and product specifications can be time and labour intensive.
Here is where manufacturers can help at the planning stage. With expert knowledge and tools, manufacturers can help suggest rainscreen and cladding systems that are fit for purpose, which was the case during the refurbishment of Kew Tower in Richmond.
This refurbished office building, had the upper floors of its building reclad by building envelope contractors, using the NVELOPE® NV4 system from SFS. The key to the success of the project was as much in the NV4 system as it was in SFS' Project Builder tool.
Project Builder provides a comprehensive, project-specific cladding solution involving only a two-step process. The tool factors in considerations such as local wind loads, height of the façade, the substrate that the rainscreen system is being fixed to, selected cladding material and the cladding zone.
With this forward-thinking, planned-out approach, Kew Tower achieved an 'Excellent' BREEAM rating following the refurbishment. The NV4 system will also help the building endure for many years to come, thanks to built-in adjustability that allows for contraction and expansion in extreme weather conditions.
Fast and Furious Fasteners and Fixings
Raising buildings faster is not just in the planning – it's in the detail. This includes selecting the most appropriate components that are designed to help installers on the job, such as fasteners and fixings.
Thousands, if not hundreds of thousands, of fasteners and fixings need to be secured on a given building. The time needed to install these components can quickly add up, leading to costly labour expenses. Here, any incremental gains can lead to major reductions in construction time.
This was certainly the case with the refurbishment of Parsons Tower, Newcastle College. The tower block, which dates to the 1970s, was refreshed with a contemporary zinc and copper façade with the help from SFS' specialist fastening systems. To secure the cladding back to composite panels on the building, low profile, high-grade stainless-steel fasteners were required. The solution was the SX2/8-D9 self-drilling fastener in A4 316 austenitic stainless steel. As well as giving excellent pull out values, the thread design helped construction time by reducing over-driving.
Similarly, construction time was significantly reduced when installing the PIR insulation into concrete deck of the roof. The contractors were facing issues with extensive drilling and the need for multiple combinations of fasteners and polypropylene sleeves. The isotak® TIA adjustable fastener system from SFS was the ideal solution in this instance. The system reduced fastener and polypropylene sleeve combinations by 50% and in turn, dramatically decreased drilling times.
Buildings? Here's one I made earlier
As well as planning and choosing the right components to help achieve faster builds, a big shift in the way buildings are realised is through modular construction. More and more, buildings and their components are being prefabricated off-site under factory conditions.
Much like fasteners and fixings that aid installers on-site, manufacturers must also be able to adapt to these new offsite construction techniques and adapt their products to suit.
In reality, this can be as simple as inserting fasteners into their sleeves before they are sent to site or supplying brackets pre-assembled. Crest Girls' Academy in Neasden, which required modernisation to its various buildings, is a great example of pre-fabrication. As well as using the Project Builder to create a detailed design to support approximately 6,000m2 of timber and cedar cladding, the project also utilised vertical point brackets with thermal isolators to help reduce thermal bridging. These brackets were pre-assembled from SFS, to speed up construction time and also prevent loss of materials on-site.
Fast Tracked for the Future
The future of our world very much depends on the construction projects of today being built right and being built to stand the tests of time for years to come.
While we improve the pace at which we construct new buildings, it must not be to the detriment of the finished products themselves. Building envelopes must be well thought out and designed, to minimise the need for amendments both during specification and installation. They must also be well considered so that they can be as thermally efficient and sustainable as possible. By looking at all these details closely, we can facilitate faster construction and create buildings where future generations can live, work and play in comfort.
https://mmcmag.co.uk/wp-content/uploads/2020/02/SFS-web.jpg
300
500
Lyn
https://mmcmag.co.uk/wp-content/uploads/2021/11/MMC-ONLINE-LOGO4-small-300x62.png
Lyn
2020-02-25 12:44:16
2020-02-25 12:44:16
Fasteners, Fixings & Everything In Between for Fast Track Construction