FERRO, a premium range of door blanks from leading German manufacturer Moralt, is fast becoming a product of choice for the UK's offsite developer community. 
Available from leading architectural materials distributor, James Latham, FERRO comprises some of the most robust blanks available on the market, with developers increasingly attracted by their ability to be worked into strong, stylish and long-lasting doors.  The blanks are made from top-quality natural and engineered timbers, with either paintable plywood, exterior MDF or decorative veneered plywood faces.  What sets FERRO apart is that each blank contains two thermally isolated solid steel stabilising bars in its core, helping to prevent bowing and warping (Moralt offers a 10 year anti-bowing and warping warranty), and making them ultra-secure; providing enhanced security benefits (RC 2 and RC 3 (Resistance class) to EN1627, and also UK PAS 24 / EN BS 6375).   Additionally, Moralt is committed to replace any FERRO door, free-of-charge, which warps more than 4mm during the warranty period, including fitting costs.
Ready For Any Application
The FERRO range is CE-certified and has been developed to meet contemporary specification requirements.  Starting with the standard Klassikplus, specifiers can choose from a wider range of enhanced blanks with increased thermal performance, soundproofing and fire resistant properties; or a combination of all these augmentations.
This includes:  • Akustik: possessing superior noise-absorbing qualities, to meet the most rigorous acoustic requirements and provide noise insulation of up to 43 dB
• FireSafe: external door blanks set a new level of standards for fire protection, incorporating the latest fire retardant technology
• Passiv: blanks consist of light, pressure-resistant, and thermally-insulating solid timber, adding to their energy-efficient performance
• FireSafe Passiv/FireSafe Akustik: goes even further, combining high levels of fire protection with the optimum levels of thermal efficiency or acoustic protection  An All-Round Performer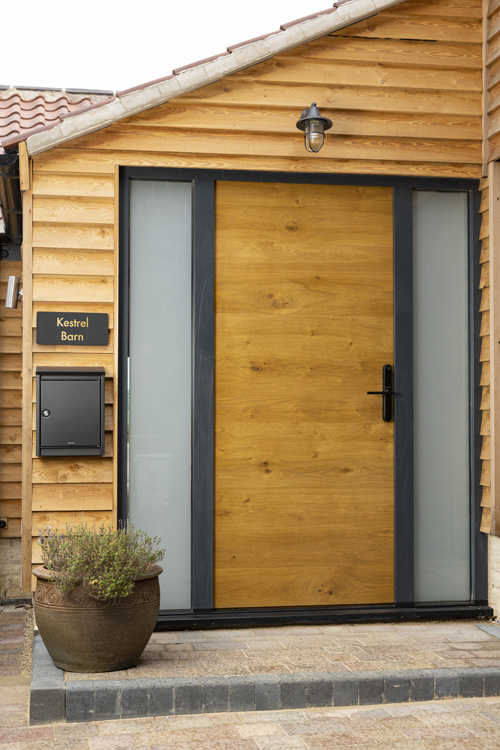 Perfect for any application, commercial or residential, the FERRO range delivers on every level.  Unlike many competing products it can be used to manufacture doors which are strong and robust and deliver maximum interior comfort through optimum airtightness, with a customisable finish for unrivalled visual appeal. This guarantees long-term value on every level.  It has also been designed with the growing offsite sector in mind, with a range of prefabricated door sets available from the manufacturer, produced to European and British official standards.  Simple to incorporate into modular wall cassettes, these framed sets can be easily worked and installed within a controlled setting, ready to plug and play, increasing consistency and efficiency.
Even better, all blanks in the range meet the UK's newly introduced sustainability requirements for residential properties, ensuring developers and asset owners remain compliant with regulation.  Commenting on the introduction of FERRO in the UK, James Latham's Group Door Manager, Steve Williams, says,
"FERRO is one of the most exciting architectural products currently available in the UK and Irish market, the perfect balance of style and substance. Its steel stabiliser ensures unparalleled structural durability, and security. This will reassure both residents and asset owners that their external doors will provide extra protection against the elements and intruders. Furthermore, developers will feel reassured that the thermal performance of the FERRO range will help them meet the revised Part L requirements, which become compulsory at the end of June 2023. Once again, Moralt has responded to its audience's requirements with a product that goes above and beyond to meet almost any specification."
---
---
https://mmcmag.co.uk/wp-content/uploads/2023/10/MORALT1.jpg
320
800
Lyn
https://mmcmag.co.uk/wp-content/uploads/2021/11/MMC-ONLINE-LOGO4-small-300x62.png
Lyn
2023-10-26 11:41:24
2023-10-26 11:48:23
Moralt FERRO is fast-becoming an MMC favourite