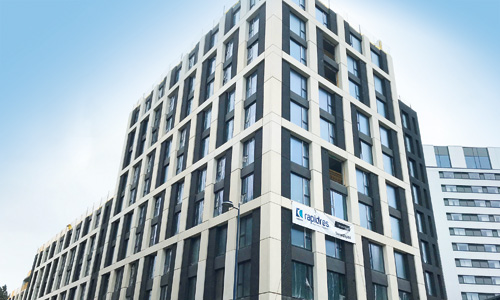 by Joe Bradbury
As a proud Midlander and Editor of MMC Magazine, my interest was always going to be piqued when I heard that industry leader Creagh are building an offsite residential tower called 'St Martin's Place' in the heart of my local city, Birmingham. I had to find out more:
There is a habit amongst people from Birmingham and the surrounding towns to run the place down. But I believe this habit is a bad one and that places such as Birmingham have so much to offer, logistically and culturally.
There was a feeling across the Midlands that Birmingham was on the cusp of big change when it finally received a decent train station. Grand Central came and transformed our embarrassing old New Street station into somewhere worth visiting.
It seems that despite nationwide Brexit uncertainty, businesses in Birmingham are enjoying more success than those in any other part of Britain.
In the Birmingham Mail, Neil Rami, chief executive of West Midlands Growth Company, recently said "The unprecedented rise of new enterprises here is demonstrating how the region can outclass London as a central hub of innovation, productive and long term future prospects."
In fact, Birmingham was the second-fastest growing UK city last year; and with more Londoners moving out of the capital to Birmingham than ever before, the demand for new housing has never been higher. Earlier this year, Berkeley Homes said they could be building up to 3,000 new homes a year in the city over the next ten years.
City centre living is becoming more and more popular, and in Birmingham this is being boosted by the increase in exciting career options being offered with the expansion of business in the city. With St Martin's Place set to complete by the end of 2020, residents won't just be the envy of Birmingham – there will be many more vying for their luxury lifestyle in this exciting city destination.
The project
Work has already begun on St Martins Place, a 17 storey, premium development, located in the heart of Birmingham between Broad Street and Tennant Street. The building comprises five apartments with three bedrooms, 105 apartments with two bedrooms and 118 apartments with one bedroom.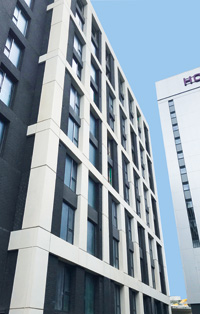 St Martin's Place will feature 228 spacious apartments, and residents' amenities including a private gym, cinema, Wi-Fi, café and 24-hour concierge.
Colmore Tang Construction has been appointed by developer Seven Capital as main contractor for the delivery of the project, located in one of Birmingham's most highly sought-after postcodes, just minutes from the city's main business district. Creagh have been enlisted to manufacture, supply & fit fastrack build system Rapidres, consisting of external sandwich panels (featuring both a smooth finish and a brick finish), internal walls, stairs, lift shaft and hollowcore flooring.
CEO of Creagh, Seamus McKeague says "we are already seeing strong interest in rapid build concrete systems because developers now understand the true value of slashing programme times. Investors not only benefit from revenue gained by the early occupation of units but, also, from the mobility of their capital resource. Quite simply, shorter build times mean developers can complete more projects with the same pot of finance."
About Rapidres
Rapidres is a fastrack offsite crosswall build system developed for residential projects, including apartments, student accommodation, hotels, social housing and custodial accommodation.
Rapidres crosswall technology delivers robust traditional style construction with the speed of a modular build for significant programme savings. Creagh design, manufacture and install the complete structure.
The total frame solution is comprised of structural walls and solid or hollowcore flooring and construction speed is greater than alternative systems. Units are manufactured offsite ensuring the desired quality is met and can be left for direct decoration if required. M&E can be incorporated into the production process for all types of services.
Error, group does not exist! Check your syntax! (ID: 2)
In summary
City living offers a multitude of benefits, such as more job opportunities, more chances of meeting people, more education opportunities and more variety.
Birmingham needs more homes if it is to keep up with modern demand, and we know that we need to be utilising offsite more as an industry. In my eyes, a project such as St Martin's place is the right type of building, in the right place, at the right time, being delivered by the right people. I can't wait to see it done!
https://mmcmag.co.uk/wp-content/uploads/2019/11/CREAGH-2.jpg
300
500
Lyn
https://mmcmag.co.uk/wp-content/uploads/2021/11/MMC-ONLINE-LOGO4-small-300x62.png
Lyn
2019-11-04 15:34:58
2019-11-04 15:34:58
Offsite homes for Birmingham