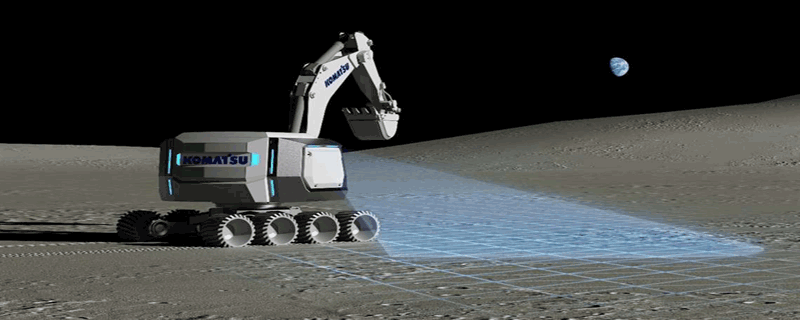 Construction equipment manufacturer Komatsu has been selected by the Japanese government to work on developing autonomous construction equipment that can operate in space.
As part of the aim of producing construction equipment that could operate on the moon, Komatsu is using digital twin technology to recreate site conditions and machines.
Komatsu says that digital twin technology is essential in precisely recreating site conditions and machines and the company is conducting a feasibility study to verify the possibility of developing high-precision digital twin technology.
Komatsu will create and operate a hydraulic excavator in cyberspace, using digital twin technology, and compare its movements with actual equipment on Earth to verify the simulator's precision.
The ongoing three-year, mid-term management plan, is scheduled to be completed in the fiscal year ending March 31, 2022.
The overall name of the project is 'Promoting the Development of Innovative Technologies for Outer Space Autonomous Construction' and it is lead managed by Japan's Ministry of Land, Infrastructure, Transport and Tourism with collaboration by Japan's Ministry of Education, Culture, Sports, Science and Technology.
Komatsu's proposal of the Development of Digital Twin Technology for Lunar Construction Equipment has been selected as an eligible target of Technology related to Autonomous Construction (Automation and Remote Control).
https://mmcmag.co.uk/wp-content/uploads/2021/12/MMC-2-08.12.21.gif
320
800
Lyn
https://mmcmag.co.uk/wp-content/uploads/2021/11/MMC-ONLINE-LOGO4-small-300x62.png
Lyn
2021-12-08 12:49:33
2021-12-08 12:49:33
OUT OF THIS WORLD CONSTRUCTION