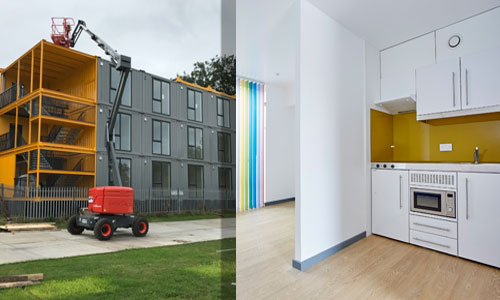 More than 30 studio apartments for young people who struggle to find good quality, affordable homes have been created in just 12 weeks by one of the UK's leading modular building companies.
Integra Buildings manufactured the innovative, self-contained apartments in its production facilities in East Yorkshire, using cutting-edge modular building techniques.
The units were then transported by lorry to Bristol, where they were assembled to create Launchpad – a modular pilot project designed to help address a growing housing crisis in the city.
The single-person apartments, which left Integra's site fitted out with high-quality, fully bespoke interiors will be available to young people aged 18-30 who are looking to leave student rentals, supported housing or over-priced accommodation.
Bespoke modular buildings specialist Integra is now completing the on-site installation of plumbing, power and high-speed broadband, with the homes expected to be ready to move into this autumn.
The rapid turnaround on the £1.4m project was achieved by utilising modular building methods that allow project times to be cut considerably when compared with traditional bricks and mortar methods, with no compromise on quality.
Error, group does not exist! Check your syntax! (ID: 2)
United Communities, the housing association leading the pioneering project, believes it could be the forerunner for new housing solutions locally and nationally, with key workers among those who could benefit from the modular communities of the future.
Integra Technical Director Mike Marriott said: "Everyone should have access to good quality, affordable accommodation and this project has enabled us to be part of meeting this basic need for young people in a city where housing problems are acute.
"It brings together our expertise and capability in designing and manufacturing robust steel shell units and modular internal fit-outs. That combination has created comfortable and appealing homes, with the desired industrial external appearance.
"The apartments are constructed and equipped to very high standards and comply fully with domestic building regulations. We're very proud to have played our part in such an innovative and inspirational project addressing a fundamental social need."
Launchpad is backed by a partnership of United Communities, 1625 Independent People, which supports young people who are homeless or at risk of homelessness, and the University of Bristol.
Last year, a report by Bristol City Council showed that more than 11,000 people were waiting for council housing in the city, where the average house price had reached almost £300,000.
The initial concept for Launchpad was to convert shipping containers, but it was decided these would be too small and restrictive. Instead, Integra was commissioned to design and manufacture a bespoke version of the shipping container concept, including a larger floor space and higher ceilings.
Integra has delivered a wide range of flagship projects across the UK, in sectors as diverse as sport and leisure, education, healthcare and commercial operations.
Building the Launchpad apartments combined two of the award-winning company's key areas of expertise – steel fabrication, normally employed in the manufacture of secure anti-vandal units, for the container-style exteriors; and innovative modular methods to create high-quality living spaces.
A ready-made modular kitchen was slotted in, alongside an en-suite shower room, and each apartment has room for a bed, sofa, desk and wardrobe. Light floods in through large windows, with stylish blinds and laminate flooring completing a relaxed, contemporary look.
Integra has also built communal shared spaces, intended to encourage the development of a supportive and sustainable community.
Integra Design Technician Sam Treadaway said: "Shipping containers are very restrictive – instead we've created a bespoke product. It's much larger, with higher ceilings and big windows, to bring in a lot more light, and to meet stringent building regulations, including insulation standards.
"Because it's fully bespoke, we've been able to design the interiors to a much higher specification. These units are self-contained studio apartments, ready for people to move in.
"This has been a very positive project to be involved in and demonstrates the potential of modular construction in tackling important social and welfare issues."
United Communities Chief Executive Oona Goldsworthy said the reduced project times offered by modular construction had been an important factor.
"The speed of delivery means we've been able to do a deal on the land and will move people in within six months," she said. "There's a huge shortage of available land for housing projects, but modular gives us the flexibility to use what I call pop-up sites."
Ms Goldsworthy added: "We've learnt a great deal from this pilot. We'd like to house key workers, such as nurses, perhaps using land owned by hospitals. There's huge potential for creating aspirational modular housing communities."
For further information go to integrabuildings.co.uk
https://mmcmag.co.uk/wp-content/uploads/2019/09/INTEGRA.jpg
300
500
Lyn
https://mmcmag.co.uk/wp-content/uploads/2021/11/MMC-ONLINE-LOGO4-small-300x62.png
Lyn
2019-09-12 10:11:19
2019-09-12 10:12:49
30 STUDIO APARTMENTS IN JUST 12 WEEKS