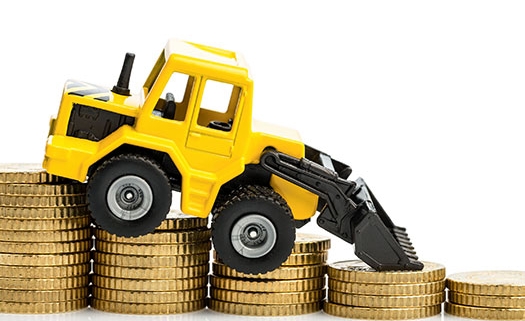 How technology can end construction's productivity slump
Ibrahim Imam, co-founder and managing director of PlanRadar, looks at how construction technology megatrends could help the industry beat its 20 year-long productivity slump
The construction industry plays a vital role in the UK's economy. It accounts for 6% of GDP, employs 3.1 million people (nearly 10% of the UK's workforce) and influences other key economic indicators like inflation. Yet, over the last two decades, the industry has been enduring a significant productivity slump, which the UK government estimates could be costing as much as £15bn a year.
This isn't just a problem in the UK, in developed nations all over the world construction's productivity performance drags down the wider economy. Worldwide, the average large construction project takes 20% longer to complete than planned and runs a staggering 80 % over budget.
Why is this? Well despite being worth 6% of global GDP, construction still hasn't undergone any significant digitalisation. From our experience, at least 60-70% of construction companies are still not dealing with any digitalisation at all, and it's stopping them from succeeding in a competitive market.
If you look at how other sectors have compared in the last few decades, productivity in the aerospace and automobile industries has roughly doubled. In the UK's aerospace industry, it has risen by more than 50% since 2009 alone. The difference is both these sectors have embraced digital solutions in their development, allowing them to improve on the efficiency and maintenance of their delivery.
Overcoming its traditional problems and embracing new technologies is the key to ending construction's 20 year-long productivity slump. The government data shows that even growing productivity by 0.25% a year for 10 years, would add £56bn to UK GDP. It's why the government announced a £600bn productivity programme called Transforming Infrastructure Performance (TIP) at the end of 2017, which itself underlined the necessity of embracing digital solutions.
Determining the type of digital adoption is the next step. There is a lot of focus right now given to headline technologies like IoT, 3D printing, augmented & virtual reality and commercialisation products such as online brokering. However, very little focus is given to the actual optimisation of processes inside construction projects, that don't involve B2C aspects. These are often overlooked, despite the fact they have so much more potential.
This is because on-the-ground technology can directly tackle areas such as inadequate organisation, communication and performance management, three areas highlighted as amongst the most harmful to productivity by the recent McKinsey & Company research.
How technology in construction can improve productivity
Construction project management software is one of the best tools that a construction company can invest in to improve productivity. Projects can only run smoothly when all teams understand their tasks and roles. These platforms keep all the appointments, documents, plans and tasks for a project on a fast and efficient platform. They offer complete real estate life cycle that helps developers, planners, architects and construction contractors seamlessly communicate with each other, as well as giving contractors direct communication with their clients.
The platform gives a complete overview of the construction site, offering interactive blueprints with easy ticketing. Ticket creation allows attributes such as pictures, voice memos, text and status, with a priority rating and a required completion date to be added. A drawing function also allows you to add annotations to plans and images. Then, simply press a button and defects or orders are forwarded directly to the responsible contractor, along with resolution deadlines and priorities.
Mark Farmer, head of Cast Consultancy, who had recently been advising the governments construction strategy recently said that; "While we are all using smartphones, construction is still pretty much the same as it was during Roman times." That fact is why it makes sense to adopt mobile technology and integrate it at the centre of new innovations. The platforms are readily available, on iOS, Android and Windows devices, as well as through internet browsers. As it's cloud-based technology, no installation is required, and it can be accessed offline. Training isn't required because the user interface is already so familiar and straightforward. On average, PlanRadar customers need less than an hour of support a year, if you can use a tablet, then you can use PlanRadar.
What difference does it make? Well, these project management platforms can increase project efficiency by up to 70%. With our system, users are already realising time savings of seven working hours per week on average. That's roughly around 18% of their working time. A survey we conducted among our users and average personnel costs found an average ROI of 900%. It's figures such as these that demonstrate the difference that on the ground digitalisation can make, and how digital technologies can significantly impact on the productivity gap by maximising the ROI of infrastructure investment. Continued modernisation will improve long-term margins, lower delivery costs, and create greater predictability by de-risking on site delivery. That's how technology can end construction's productivity slump.
Ibrahim Imam
Co-founder and managing director
SOURCE: PBC Today
https://mmcmag.co.uk/wp-content/uploads/2019/06/07.06.19.jpg
350
525
Lyn
https://mmcmag.co.uk/wp-content/uploads/2021/11/MMC-ONLINE-LOGO4-small-300x62.png
Lyn
2019-06-07 09:55:59
2019-06-10 07:07:06
Technology can beat construction slump