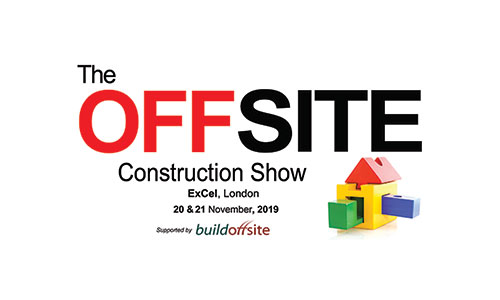 The UK's "Blue Riband" Offsite Construction Event set for 5th year
Doors open on November 20th, 2019 at London's ExCeL exhibition centre for edition 5 of this top class event specialising in offsite construction (OSC).
According to show director, Steven Callaghan, offsite construction (OSC) is now more in the news than at any time since he launched the show in 2015.
"Housing shortages in the UK, in particular the lack of affordable housing, have seen OSC advanced as something that could make a major contribution to solving these particular problems. This has lead to a wider appreciation of the other benefits of OSC such as improved quality of the finished product and, vitally, improvements in health and safety at work.
Shortages of skilled labour are another good reason why OSC needs to be considered very seriously – many employers are finding that current entrants to the workplace are less enthusiastic about working on a windswept building site than their fathers and forefathers, this is the digital generation" Steven adds.
Head of Sales, Maddie Maclellan takes up the story.  "We organise the show in association with London based organization, buildoffsite, (www.buildoffsite.com) who we call the 'voice of the offsite construction industry'. They are a membership based organization whose sole role is to promote the use of offsite construction technology and it only takes a brief glance at their list of members online to see the extent of their influence – it's a real who's who of end clients, contractors, manufacturers even government departments.
"A very popular feature of the Offsite Construction Show is the buildoffsite Seminar Theatre and I'm pleased to confirm that it will be making an appearance once again in 2019. The programme is yet to be published but for a flavor of what can be expected, please follow this link to see details of the 2018 presentations in the programme of events – www.buildoffsite.com/content/uploads/2017/12/Day-1_Programme-for-website-2.pdf – there is also a series of Masterclasses plus the show's own seminar theatre and programme and it's all absolutely free of charge", says Maddie.
The organisers feel that the show's high turn out and excellent visitor quality is strongly influenced by it's location in London, one of the Worlds most dynamic cities and the home to many spectacular flagship OSC projects.  "London ExCeL is located in the heart of the Docklands and is a truly World class venue," continues Steven Callaghan, "with superb facilities for visitors and exhibitors," and nowhere is this more evident than with it's communication links, he stresses.
"Visiting the show could not be easier," says Maddie, whether by public transport or by your own car. "ExCeL has 2 of it's it's own onsite DLR Stations (Docklands Light Railway) and this is the most popular way of travelling to the show – fast, cheap and efficient however if you do prefer to come under your own steam, the venue has an underground parking garage with over 3000 spaces."
"Register online on the show website  – www.offsiteconstructionshow.co.uk – for your free entrance ticket beforehand, it will save you time on arrival at the show hall'.
According to the organisers, this means that the show has easy access to the many thousands of senior construction, design and specifying personnel based in the capital city, as well as both central and local government.
In 2018 the show was attended by over 4,000 people, a record attendance, and a similar number are expected in 2019, with up to 100 exhibitors anticipated to show at the latest event, ranging from specialist manufacturers of offsite buildings, construction technology and design to product supply chain producers and the 2019 show will feature at least 20% brand new, first time exhibitors.
"The show is THE place in the UK to do offsite business" says Maddie and we cater for all aspects of the process – whether your reason for visiting is to learn more about OSC with a view to incorporating it in your future projects or to look to develop your supply chain, the show has something to offer you," concludes Maddie.
https://mmcmag.co.uk/wp-content/uploads/2019/07/OFFSITE3.jpg
300
500
Lyn
https://mmcmag.co.uk/wp-content/uploads/2021/11/MMC-ONLINE-LOGO4-small-300x62.png
Lyn
2019-07-11 12:01:45
2019-07-11 12:21:58
"Blue Riband" Offsite Construction Event